H. L. Mencken to Clarence Darrow, March 20, 1926
Click on the image to view as a PDF. A transcription of the letter is on the right.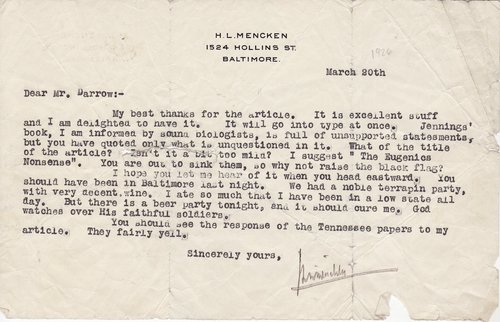 H.L. Mencken
1524 Hollins St
Baltimore
March 20th

Dear Mr. Darrow:–
My best thanks for the article. It is excellent stuff and I am delighted to have it. It will go into type at once. Jennings' book, I am informed by sound biologists, is full of unsupported statements but you have quoted only what is unquestioned in it. What of the title of the article? Isn't it a bit too mild? I suggest "The Eugenics Nonsense". You are out to sink them, so why not raise the black flag?
I hope you let me hear of it when you head eastward. You should have been in Baltimore last night. We had a noble terrapin party, with very decent wine. I ate so much that I have been in a low state all day. But there is a beer party tonight, and it should cure me. God watches over His faithful soldiers.
You should see the response of the Tennessee papers to my article. They fairly yell.
Sincerely yours
H. L. Mencken