Elbert Hubbard to Clarence Darrow, November 2, 1904
Clarence: Here is a fellow defaming you!
Click on the image to view as a PDF. A transcription of the letter is on the right.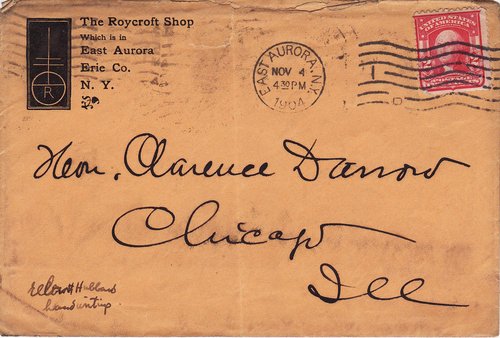 The Roycroft Shop
Which is in
East Aurora
Erie Co.
N.Y.
Hon. Clarence Darrow
Chicago
Ill
Elbert Hubbard
handwriting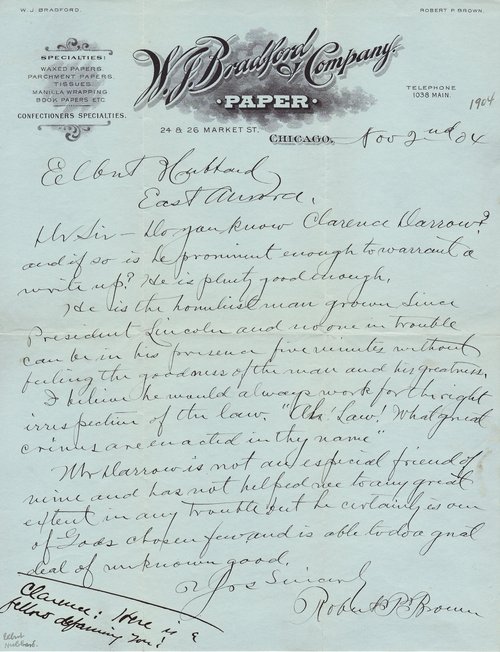 W.J. Bradford & Company
Paper
24 & 26 Market St.
Chicago Nov 2 nd 04
Elbert Hubbard
East Aurora,
Dear Sir— Do you know Clarence Darrow? and if so is he prominent enough to warrant a write up? He is plenty good enough.
He is the homeliest man grown since President Lincoln and no one in trouble can be in his presence five minutes without feeling the goodness of the man and his greatness, I believe he would always work for the right irrespective of the law. "Ah! Law! What great crimes are enacted in thy name"
Mr. Darrow is not an especial friend of mine and has not helped me to any great effect in any trouble but he certainly is one of Gods chosen few and is able to do a great deal of unknown good.
Yours Sincerely
Robert P Brown
---
Clarence: Here is a fellow defaming you!
Elbert Hubbard