Ernest McGaffey to Clarence Darrow, August 21, 1923
McGaffey is referring to Darrow's only novel, a short work called An Eye for an Eye that was published in 1905. The story is about Jim Jackson, who while losing a struggle with poverty and harsh circumstances, murdered his wife in a fit of rage by hitting her with a fire poker. Jackson was convicted and sentenced to death. Darrow incorporated his beliefs about man's lack of free will and the futility and cruelty of capital punishment. The Sonnet book McGaffey is referring to is his own work titled Sonnets to a Wife published in 1922.
Click on the image to view as a PDF. A transcription of the letter is on the right.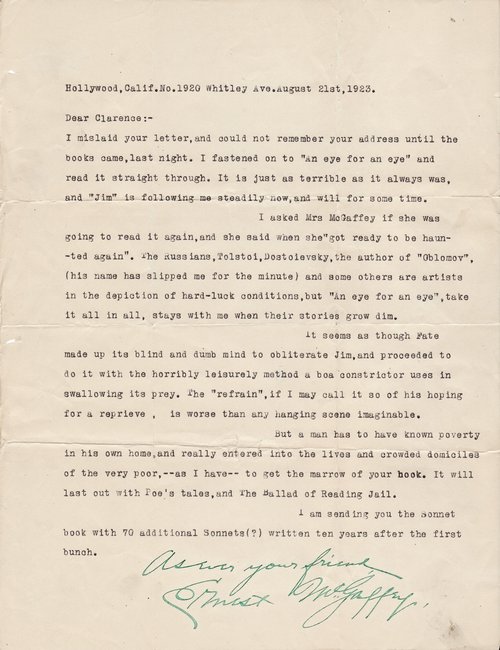 Hollywood, Calif. No.1920 Whitley Ave. August 21st, 1923.
Dear Clarence:-
I mislaid your letter, and could not remember your address until the books came, last night. I fastened on to "An eye for an eye" and read it straight through. It is just as terrible now as it always was, and "Jim" is following me steadily now, and will for some time.
I asked Mrs. McGaffey if she was going to read it again and, she said when she "got ready to be haunted again". The Russians, Tolstoi, Dostoievesky, the author of "Oblomov", (his name has slipped me for the minute) and some others are artists in the depiction of hard-luck conditions, but "An eye for an eye" take it all in all, stays with me when their stories grow dim.
It seems as though Fate made up its blind and dumb mind to obliterate Jim, and proceeded to do it with the horribly leisurely method a boa constrictor uses in swallowing its prey. The "refrain" if I may call it so of his hoping for a reprieve, is worse than any hanging scene imaginable.
But a man has to have known poverty in his own home and really entered into the lives and crowded domiciles of the very poor, --as I have-- to get the marrow of your hook. It will last out with Poe's tales, and The Ballad of Reading Jail.
I am sending you the Sonnet book with 70 additional sonnets(?) written ten years after the first bunch.
As ever your friend,
Ernest McGaffey