Sinclair Lewis to Clarence Darrow, April 5, 1926
Burris Jenkins was a Kansas City minister at the Linwood Boulevard Methodist Episcopal Church in Kansas City, Missouri. Sinclair Lewis interviewed Jenkins and numerous other preachers in Kansas City and observed them during services in preparation for writing his novel Elmer Gantry.
Click on the image to view as a PDF. A transcription of the letter is on the right.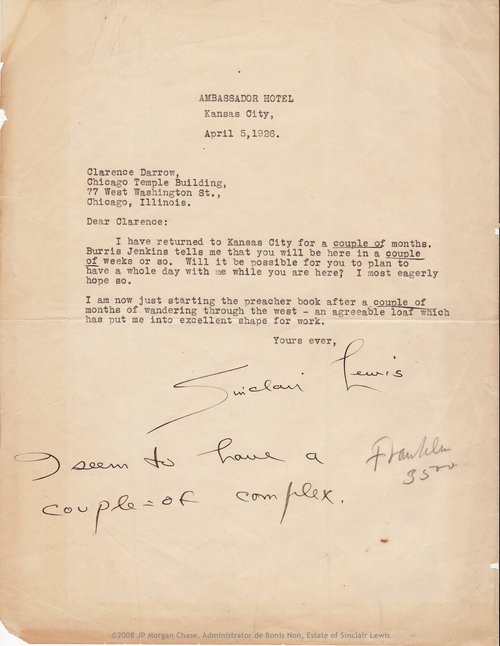 Ambassador Hotel
Kansas City,
April 5, 1926.
Clarence Darrow,
Chicago Temple Building
77 West Washington St.,
Chicago, Illinois.
Dear Clarence:
I have returned to Kansas City for a couple of months. Burris Jenkins tells me that you will be here in a couple of weeks or so. Will it be possible for you to plan to have a whole day with me while you are here? I most eagerly hope so.
I am now just starting the preacher book after a couple of months of wandering through the west - an agreeable loaf which has put me in excellent shape for work.
Yours ever,
Sinclair Lewis
I seem to have a
couple = of complex.
Franklin 3500