Franklin D. Roosevelt to Clarence Darrow, February 23, 1931
The reference to Frank Walsh is most likely to Frank P. Walsh. Walsh was a prominent labor lawyer who headed the Commission on Industrial Relations created in the aftermath of the Los Angeles Times bombing in October 1910. The commission was tasked with investigating the causes of conflict between labor and industry that lead to the bombing. Walsh later became the general counsel for the Iron Workers Union, a position he held from 1918 until his death in 1939. Walsh was also one of the most prominent utility lawyers in the United States. In 1929 Governor Roosevelt appointed Walsh to the New York Commission on the Revision of Public Utility Laws. In 1931 Roosevelt appointed Walsh to be chairman of the Power Authority in New York.
Click on the image to view as a PDF. A transcription of the letter is on the right.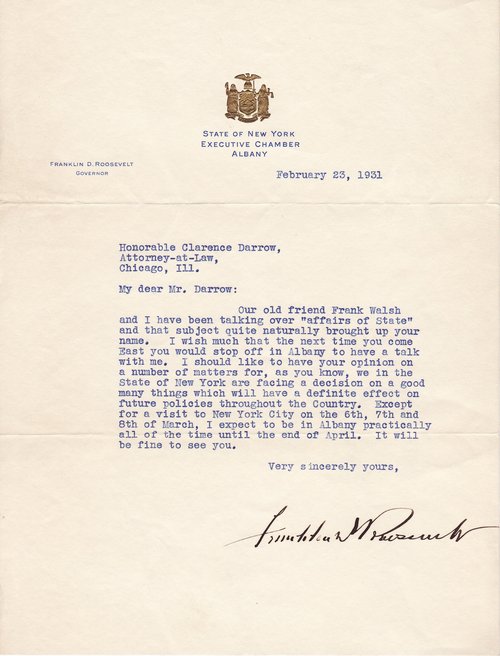 STATE OF NEW YORK
EXECUTIVE CHAMBER
ALBANY
Franklin D. Roosevelt
Governor
February 23, 1931
Honorable Clarence Darrow,
Attorney-at-law,
Chicago, Ill
My dear Mr. Darrow:
Our old friend Frank Walsh and I have been talking over "affairs of the State" and that subject quite naturally brought up your name. I wish much that the next time you come East you would stop off in Albany to have a talk with me. I should like to have your opinion on a number of matters for, as you know, we in the State of New York are facing a decision on a good many things which will have a definite effect on future policies throughout the Country. Except for a visit to New York City on the 6th, 7th, and 8th of March, I expect to be in Albany practically all of the time until the end of April. It will be fine to see you.
Very sincerely yours,
Franklin D. Roosevelt