Theodore Dreiser to Clarence Darrow, February 1, 1926
Click on the image to view as a PDF. A transcription of the letter is on the right.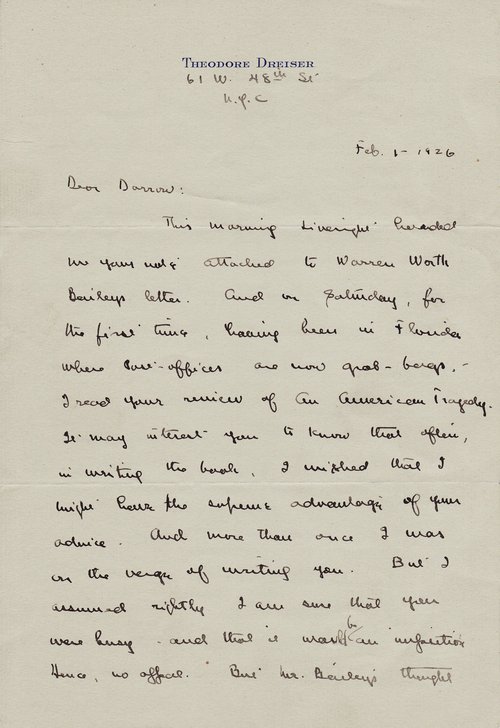 Theodore Dreiser
61 W. 48th Street
New York City
Feb 1- 1926
Dear Darrow,
This morning Liveright handed me your note attached to Warren Worth Baileys letter. And on Saturday, for the first time, having been in Florida where post offices are now grab - bags! I read your review of An American Tragedy. It may interest you to know that often, in writing the book, I wished I might have the supreme advantage of your advice. And more than once I was on the verge of writing you. But I assumed rightly I am sure that you were busy and that it would be an infuriation. Hence, no appeal. But Mr Bailey's thought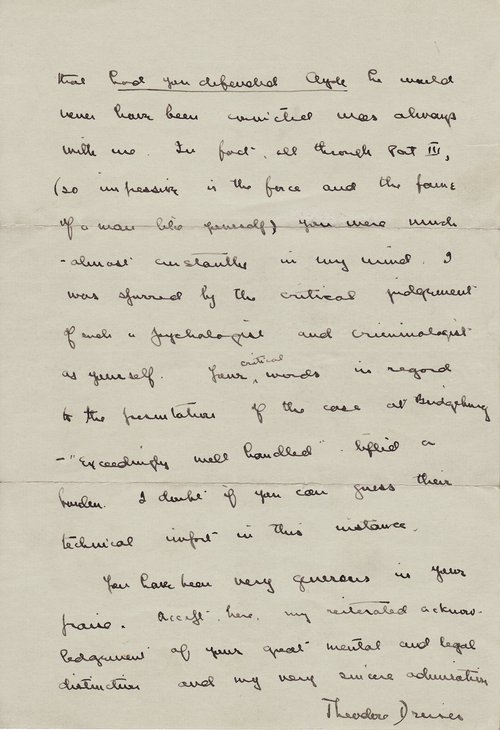 that had you defended Clyde he would never have been convicted was always with me. In fact, all through Part III, (so impressive in the force and the fame of a man like yourself) you were much - almost constantly in my mind. I was spurred by the critical judgment of such a psychologist and criminologist as yourself. Your critical words in regard to the presentation of the case at Bridgeburg - "Exceedingly well handled" lifted a burden. I doubt if you can guess their technical import in this instance.
You have been very generous in your praise. Accept here my reiterated acknowledgement of your great mental and legal distinction and my very sincere admiration.
Theodore Dreiser