Sinclair Lewis to Clarence Darrow, May 10, 1926
Click on the image to view as a PDF. A transcription of the letter is on the right.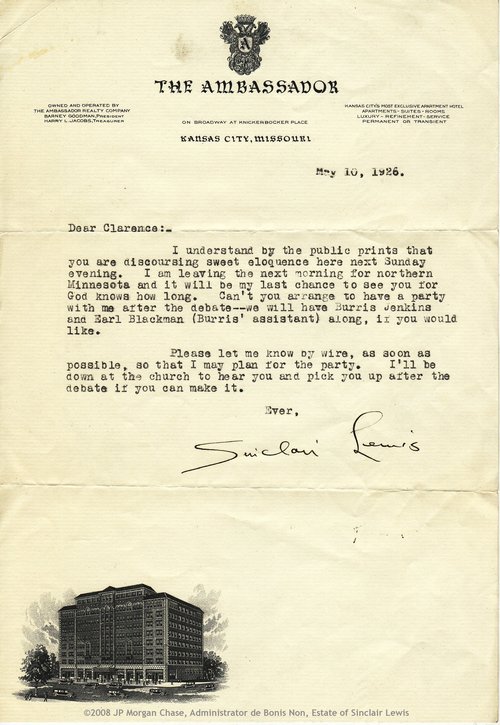 The Ambassador
On Broadway at Knickerbocker Place
Kansas City, Missouri
May 10, 1926.
Owned and operated by
The Ambassador Realty Company
Barney Goodman, President
Harry L. Jacobs, Treasurer
Dear Clarence:-
I understand by the public prints that you are discoursing sweet eloquence here next Sunday evening. I am leaving the next morning for Northern Minnesota and it will be my last chance to see you for God knows how long. Can't you arrange to have a party with me after the debate -- we will have Burris Jenkins and Earl Blackman (Burris' assistant) along, if you would like.
Please let me know by wire, as soon as possible, so that I may plan for the party. I'll be down at the church to hear you and pick you up after the debate if you can make it.
Ever,
Sinclair Lewis
© 2008 JP Morgan Chase, Administrator de Bonis Non, Estate of Sinclair Lewis