William Dean Howells to Clarence Darrow, January 27, 1904
This rejection letter is about Darrow's semi-autobiographical novel that would be published in 1904 with the title Farmington . It was first published by A. C. McClurg & Co., a publisher in Chicago made famous by its original publishing of the works of Edgar Rice Burroughs, including his Tarzan of the Apes novels.
Click on the image to view as a PDF. A transcription of the letter is on the right.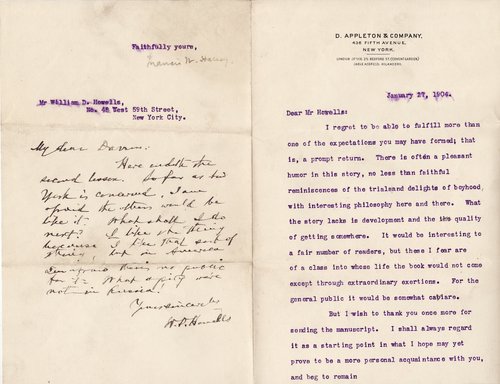 D. Appleton & Company.
436 Fifth Avenue.
New York
London Office 25 Bedford St.(Convent Garden)
Cable Address
January 27, 1904.
Dear Mr. Howells:
I regret to be able to fulfill more than one of the expectations you may have formed; that is, a prompt return. There is often a pleasant humor in this story, no less than faithful reminiscences of the trialsand delights of boyhood with interesting philosophy here and there. What the story lacks is development and the the quality of getting somewhere. It would be interesting to a fair number of readers, but these I fear are of a class into whose life the book would not come except through extraordinary exertions. For the general public it would be somewhat caviare.
But I wish to thank you once more for sending the manuscript. I shall always regard it as a starting point in what I hope may yet prove to be a more personal acquaintance with you and beg to remain
Faithfully yours,
Francis W. Halsey,
Mr. William D. Howells,
No. 48 West 59th Street,
New York City.
My Dear Darrow:
Here endth the second lesson. So far as New York is concerned. I am afraid the [others?] would be like it. What shall I do next? I like the [thing?] because I like that sort of thing, but in America I am afraid there is no public for it. What a pity we're not in Russia!
Yours sincerely
W. D. Howells