Hutchins Hapgood to Clarence Darrow, March 21, 1906
Hapgood is referring to Bernard Berenson (1865 - 1959), an American art historian specializing in the Renaissance. His statement about his "long delayed book" is about his book The Spirit of Labor about Anton Johannsen who played an important role during the McNamara case and Darrow's bribery trials. It was published in 1907. Hapgood mentions Darrow numerous times in the book.
Click on the image to view as a PDF. A transcription of the letter is on the right.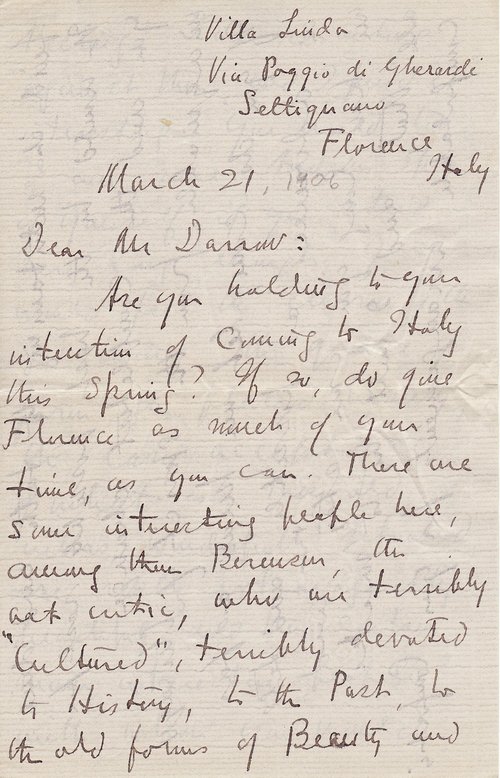 Villa Luida
Via Poggio di Gherardi
Settignano
Florence
Italy
March 21
Dear Mr Darrow:
Are you holding to your intention of coming to Italy this Spring? If so, do give Florence as much of your time, as you can. There are some interesting people here, among them Berenson, the art critic who is terribly "Cultured", terribly devoted to History, to the Past, to the old forms of Beauty and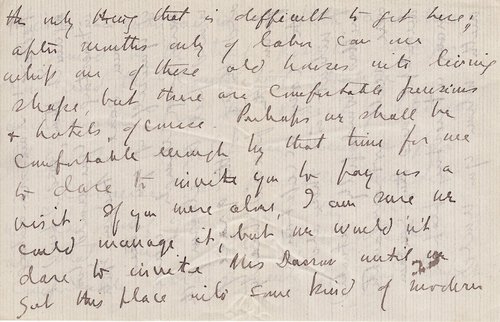 the only thing that is difficult to get here; after months only of labor can we whip one of these old houses into living shape, but there are comfortable premises and hotels, of course. Perhaps we shall be comfortable enough by that time for us to dare to invite you to pay us a visit. If you were alone, I am sure we could manage it, but we wouldn't dare to invite Mrs Darrow until we got this place into some kind of modern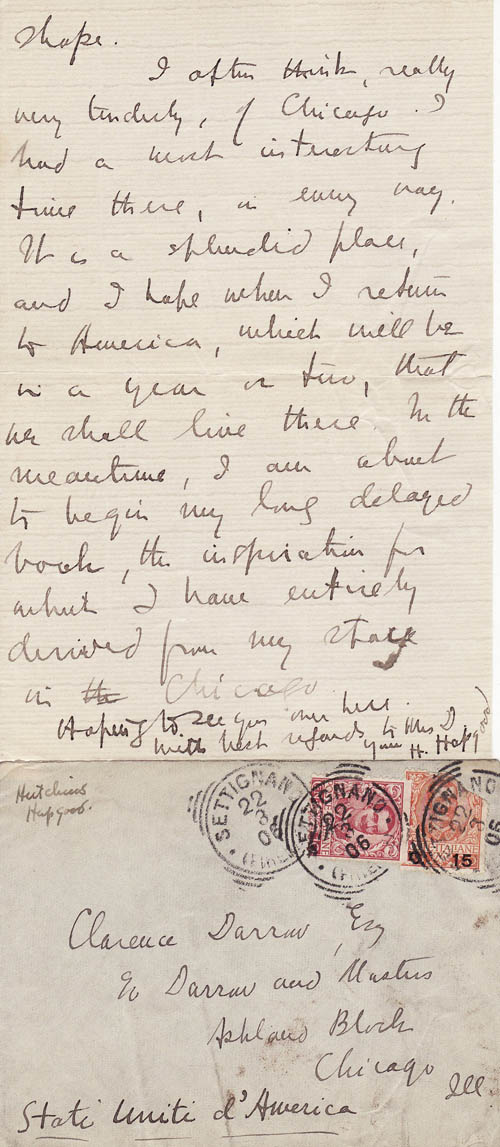 shape.
I often think, really very tenderly, of Chicago. I had a much interesting time there, in every way. It is a splendid place, and I hope when I return to America, which will be in a year or two, that we shall live there. In the meantime, I am about to begin my long delayed book, the inspiration for which I have entirely derived from my stay in Chicago.
Hoping to see you over here. With best regards to Mrs D.
Yours H. Hapgood
Hutchins
Hapgood
Clarence Darrow, Esq
Darrow and Masters
Ashland Block
Chicago
Ill
State Unite d'America