William Dean Howells to Clarence Darrow, January 21, 1904
This rejection letter is about Darrow's semi-autobiographical novel that would be published in 1904 with the title Farmington . It was first published by A. C. McClurg & Co., a publisher in Chicago made famous by its original publishing of the works of Edgar Rice Burroughs, including his Tarzan of the Apes novels.
Click on the image to view as a PDF. A transcription of the letter is on the right.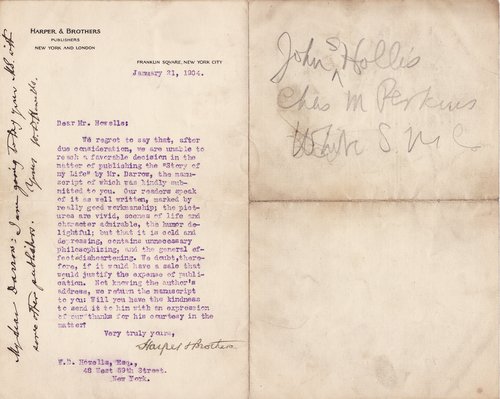 Harper & Brothers
Publishers
New York And London
Franklin Square, New York City
January 21, 1904.
Dear Mr. Howells:
We regret to say that, after due consideration, we are unable to reach a favorable decision in the matter of publishing the "Story of my Life" by Mr. Darrow, the manuscript of which was kindly submitted to you. Our readers speak of it as well written, marked by really good workmanship; the pictures are vivid, scenes of life and character admirable, the humor delightful; but that it is cold and depressing, contains unnecessary philosophizing, and the general effect is disheartening. We doubt, therefore, if it would have a sale that would justify the expense of publication. Not knowing the author's address, we return the manuscript to you: Will you have the kindness to send it to him with an expression of our thanks for his courtesy in the matter?
Very truly yours,
Harper & Brothers
W.D. Howells, Esq.,
48 West 59th Street.
New York.
My dear Darrow: I am going to try your MS. with
some other publishers. Yours W.D. Howells
[COVER] John S. Hollis
Chris M Perkins
Whik S.M.C