Robert M. La Follette to Clarence Darrow, April 1, 1925
Click on the image to view as a PDF. A transcription of the letter is on the right.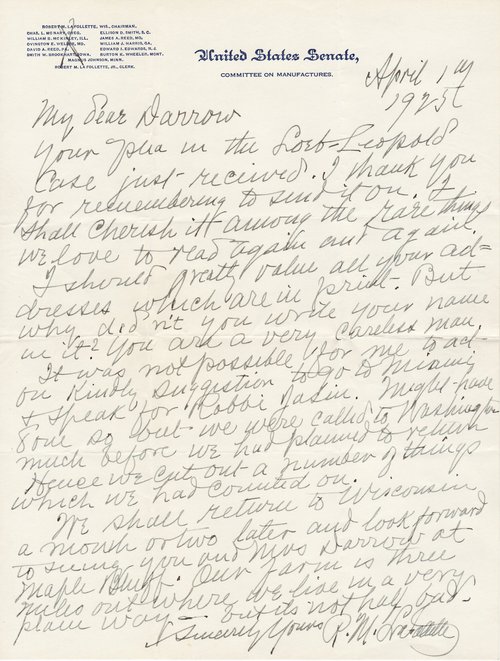 United States Senate
Committee on Manufactures
April 1 st
1925
My dear Darrow,
Your plea in the Loeb-Leopold case just- received. I thank you for remembering to send it on. I shall cherish it among the rare things we love to read again and again. I should greatly value all your addresses which are in print. But why didn't you write your name in it? You are a very careless man.
It was not possible for me to act on kindly suggestion to go to Miami and speak for Robbi Nadin. Might have done so but we were called to Washington much before we had planned to return[.] Hence we cut out a number of things which we had counted on.
We shall return to Wisconsin a month or two later and look forward to seeing you and Mrs Darrow at Maple Bluff. Our farm is three miles out where we live in a very plain way- but its not half bad.
Sincerely yours,
R. M. La Follette