William Thurston Brown to Clarence Darrow, August 11, 1916
The reference to Moore is to Clarence Darrow's brother-in-law John Howard Moore who committed suicide on June 17, 1916 in Chicago. Moore was married to Darrow's sister Jennie. Moore, who was born in 1862, was a high school teacher and also a writer of some renown on the subjects of evolutionary biology and ethics. His most important books are "The Universal Kinship" (1906) and The New Ethics" (1907). Darrow was very fond of Moore and devastated by his death. Darrow delivered a eulogy at his funeral that was later published.
The Stelton Modern School was modeled after a school set up by Spanish anarchist and educator Francisco Ferrer y Guardia in Spain. The school, called the Escuela Moderna, was created in Barcelona in 1901. Its goal was "free" education which meant education free of the oppression of the church and eventually free of all direction and control. Spanish authorities shut the school down in 1906 when Ferrer was implicated in a plot to assassinate King Alfonso XIII on his wedding day. In July of 1909 workers in Barcelona began protests which led to riots and rebellion. This came to be called the "Tragic Week." Ferrer was arrested and later executed for being one of the leaders of the riots. Ferrer's death caused an international outcry and Modern Schools were setup around the world in Ferrer's memory.
Click on the image to view as a PDF. A transcription of the letter is on the right.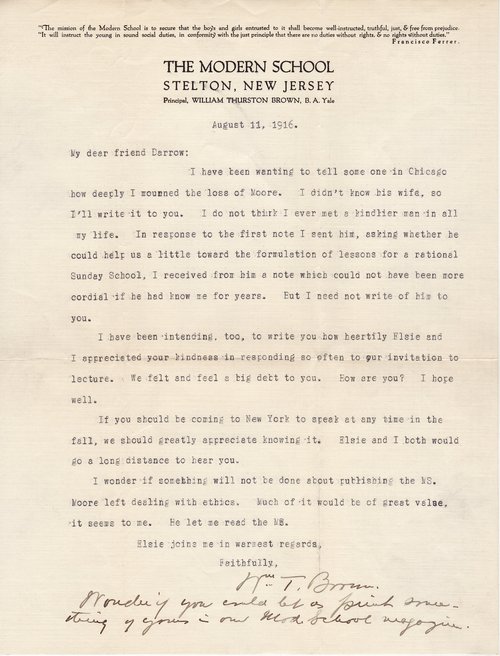 THE MODERN SCHOOL
STELTON, NEW JERSEY
Principal, WILLIAM THURSTON BROWN, B.A. Yale

August 11, 1916.
My dear friend Darrow,
I have been wanting to tell someone in Chicago how deeply I mourned the loss of Moore. I didn't know his wife, so I'll write it to you. I do not think I ever met a kindlier man in all my life. In response to the first note I sent him,asking whether he could help us a little toward the formulation of lessons for a rational Sunday School, I received from him a note which could not have been more cordial if he had know me for years. But I need not write of him to you.
I have been intending, too, to write you how heartily Elsie and I appreciated your kindness in responding so often to our invitation to lecture. We felt and feel a big debt to you. How are you? I hope well.
If you should be coming to New York to speak at any time in the fall, we should greatly appreciate knowing it. Elsie and I both would go a long distance to hear you.
I wonder if something will not be done about publishing the MS. Moore left dealing with ethics. Much of it would be of great value, it seems to me. He let me read the MS.
With cordial regards to Mrs. Darrow and yourself, & all best wishes for Christmas & the New Year,
Elsie joins me in warmest regards,
Faithfully,
W.T. Brown
Wondering if you could let us print something of yours in our Mod school magazine.