Elbert Hubbard to Clarence Darrow, June 21, 1904
Click on the image to view as a PDF. A transcription of the letter is on the right.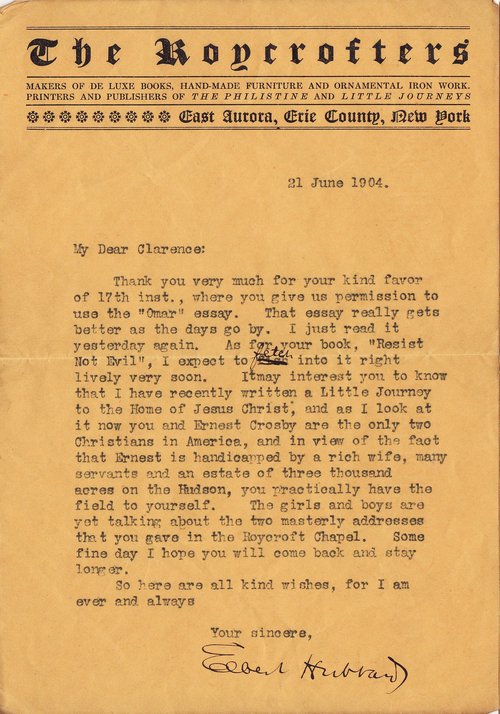 The Roycrofters
East Aurora, Erie County, New York
21 June 1904.
My Dear Clarence:
Thank you very much for your kind favor of 17th inst., where you give us permission to use the "Omar" essay. That essay really gets better as the days go by. I just read it yesterday again. As for your book, "Resist Not Evil", I expect to xxx fetch[?] into it right lively very soon. It may interest you to know that I have recently written a Little Journey to the Home of Jesus Christ; and as I look at it now you and Ernest Crosby are the only two Christians in America, and in view of the fact that Ernest is handicapped by a rich wife, many servants and an estate of three thousand acres on the Hudson, you practically have the field to yourself. The girls and boys are yet talking about the two masterly addresses that you gave in the Roycroft Chapel. Some fine day I hope you will come back and stay longer.
So here are all kind wishes, for I am ever and always
Your sincere,
Elbert Hubbard