Clarence Darrow to Paul Darrow, April 07, 1931
Clarence Darrow narrated and appeared in a film about evolution titled "Mystery of Life" in 1931. The film also featured Smith College Professor H.M. Parshley. It was produced by Carl Laemmle, a founder and president of Universal Pictures Corporation. Darrow and Laemmle corresponded in 1932.

Notes on date: Year written on letter by an unknown person. Letter was written in either Jan., Feb., Mar., or April.
Click on the image to view as a PDF. A transcription of the letter is on the right.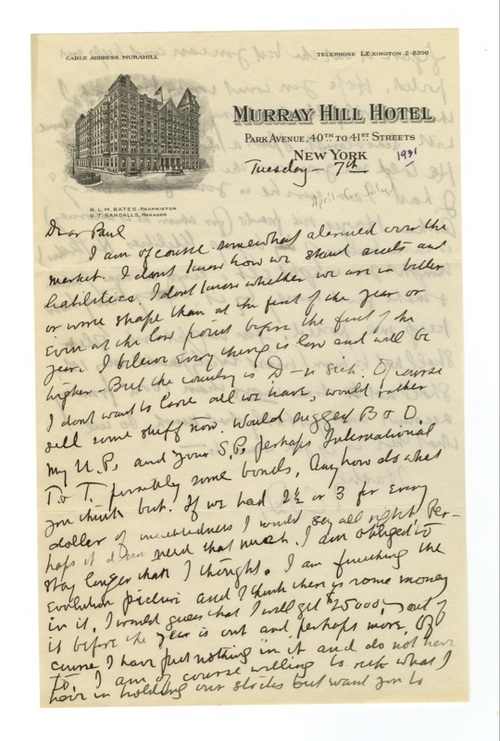 Cable Address, Murahill
Telephone Lexington 2300

Murray Hill Hotel
Park Avenue, 40th to 41st Streets
New York

B.L.M. Bates, Proprietor
G.T. Sandalls, Manager

Tuesday — 7th

Dear Paul

I am of course somewhat alarmed over the market. I dont know how we stand assets and liabilities. I dont know whether we are in better or worse shape than at the first of the year or even at the low point before the first of the year. I believe every thing is low and will be higher. But the country is D — n sick. Of course I dont want to loose all we have, would rather sell some stuff now. Would suggest B — O. My U.P, and yours S.P, perhaps International T. & T. possibly some bonds. Any how do what you think best. If we had 2 ½ or 3 for every dollar of indebtedness I would say all right[.] Perhaps [?] [?}need that much. I am obliged to stay longer than I thought. I am finishing the Evolution picture and I think there is some money in it. I would guess that I will get $25000? out of it before the year is out and perhaps more. Of course I have put nothing in it and do not have to. I am of course willing to risk what I have in holding our stocks but want you to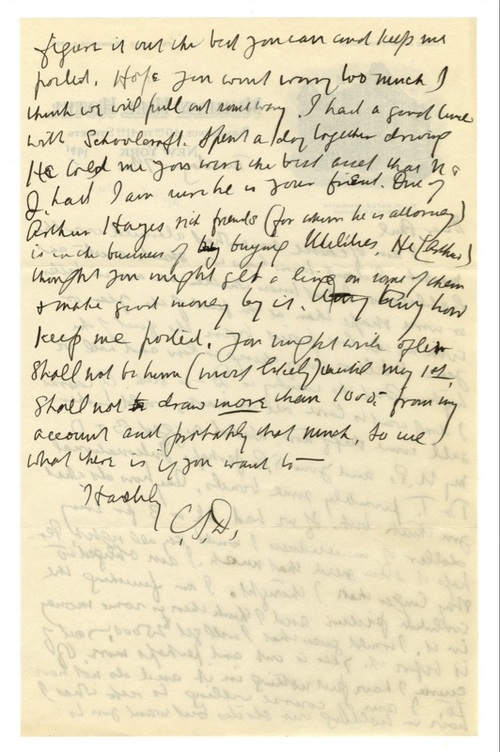 figure it out the best you can and keep me posted. Hope you wont worry too much[.] I think we will pull out some way. I had a good time with [Schoolcraft?]. Spent a day together driving[.] He told me you were the best asset that N & J. had[.] I am sure he is your friend. One of Arthur Hayes rich friends (for whom he is attorney) is in the business of by buying Utilities. He (Arthur) thought you might get a line on some of them & make good money by it. Any Any how keep me posted. You might write often[.] Shall not be home (most likely) until May 1st . Shall not xxx draw more than 1000? from my account and probably that much, so use what there is if you want to ?

Hastily

C.S.D.