Clarence Darrow to Paul Darrow, January 29, 1930
Notes on date: Year written on letter by an unknown person
Click on the image to view as a PDF. A transcription of the letter is on the right.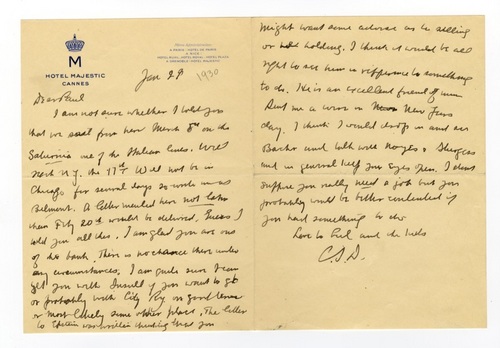 Hotel Majestic
Cannes

Jan 29

Dear Paul

I am not sure whether I told you that we sail from here March 8th on the Saturnia one of the Italian lines. Will reach N.Y. the 17th [.] Will not be in Chicago for several days so write me at Belmont. A letter mailed here not later than Feby 20th would be delivered. Guess I told you all this. I am glad you are out of the bank. There is no chance there under any circumstances. I am quite sure I can get you with [____?] if you want to go or probably with City Ry on good [terms ?] or most likely some other place[.] The letter to Epstein was written thinking that you might want some advice as to selling or xxx holding. I think it would be all right to see him in refference to something to do. He is an excellent friend of mine. Sent me a wire on xxx New Years day. I think I would drop in and see Baehr and talk with Noyes & Sturgess and in general keep your eyes open. I dont suppose you really need a job but you probably would be better contented if you had something to do.

Love to Lil and the kids

C.S.D.