Clarence Darrow to Charles J. Dutton, July 20, 1936
Click on the image to view as a PDF. A transcription of the letter is on the right.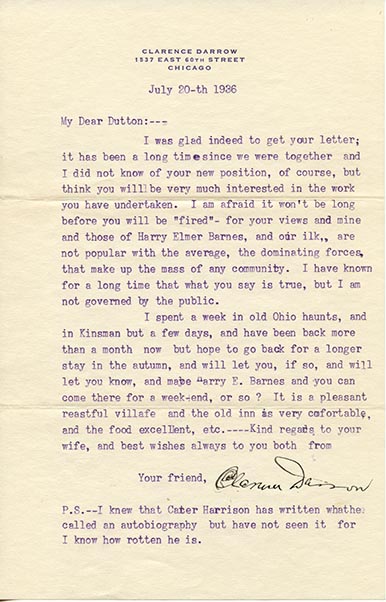 CLARENCE DARROW
1537 EAST 60TH STREET
CHICAGO
July 20-th 1936
My Dear Dutton:---
I was glad indeed to get your letter;
it has been a long time since we were together and
I did not know of your new position, of course, but
think you will be very much interested in the work
you have undertaken. I am afraid it won't be long
before you will be "fired"- for your views and mine
and those of Harry Elmer Barnes, and our ilk,. are
not popular with the average, the dominating forces,
that make up the mass of any community. I have known
for a long time that what you say is true, but I am
not governed by the public.
I spent a week in old Ohio haunts, and
in Kinsman but a few days, and have been back more
than a month now but hope to go back for a longer
stay in the autumn, and will let you, if so, and will
let you know, and maybe Harry E. Barnes and you can
come there for a week-end, or so? It is a pleasant
reastful villafe and the old inn is very comfortable,
and the food excellent, etc.----Kind regards to your
wife, and best wishes always to you both from
Your friend, Clarence Darrow

P.S.--I knew that Cater Harrison has written what he
called an autobiography but have not seen it for
I know how rotten he is.