Clarence Darrow to Paul Darrow, ??-??-1917
Darrow's reference to Bylsbee is to Henry Marison Byllesby (1859 - 1924). Byllesby was one of the most prominent electrical engineers of his time. Around 1881, after Byllesby earned an engineering degree, he was hired by Thomas Edison to help build an electrical station in Manhattan. In 1885 he was hired by George Westinghouse to manage his electrical company. Byllesby moved to St. Paul, Minnesota in 1891 to run an electrical company. He formed a power company in 1909 and changed the name of the company to Northern States Power in 1916. The company supplied power throughout Minnesota. He formed H.M. Byllesby & Co. a Chicago-based conglomerate that owned steamships, streetcars and utility companies across the United States. He was also an officer and director of many public gas and electric utility companies.
Soon after Germany started World War I Byllesby became a prominent supporter of the Allies. Beginning in April 1917 he began working full-time as the Chairman of the Executive Committee of the Chicago Branch of the National Security League. This was a public service organization founded in 1914 to lobby for increased and improved preparation for America's defense against enemies at home and abroad. Byllesby was primarily responsible for the inauguration of a patriotic speaking campaign which opened in Minneapolis in September, 1917 with Samuel Gompers and Clarence Darrow as principal speakers. In 1917 Byllesby accepted a commission as a major and served in the Signal Corps and was later promoted to lieutenant-colonel. He also served in London as the purchasing agent for the American Expeditionary Force.
Click on the image to view as a PDF. A transcription of the letter is on the right.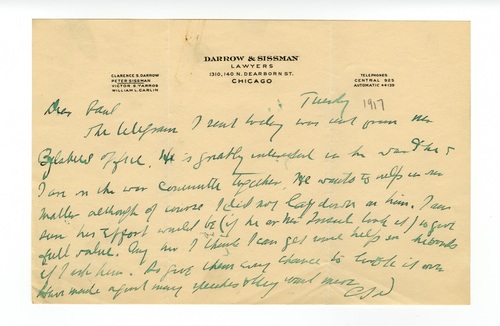 Darrow & Sissman
Lawyers
1310, 140 N. Dearborn St.
Chicago

Clarence S. Darrow
Peter Sissman
Victor S. Yarros
William L. Carlin
Telephones
Central 925
Automatic 44-139
Tuesday
Dear Paul
The telegram I sent today was sent from Mr. Bylsbees office. He is greatly interested in the war & he & I are on the war committee together. He wants to help on our Matter although of course I did not lay [?] down on him. I am sure his effort would be (if he or Mr. Insul took it) to give full value. Any how I think I can get some help on the bonds if I ask him. So give them every chance to look it over[.] Have made a good many speeches & they want more[.]
C.S.D.