Clarence Darrow to Paul Darrow, September 29, 1917
The Healey case is a reference to Charles C. Healey, Chief of Police of Chicago, who went on trial in October of 1917 for malfeasance in office and conspiracy in a plot to nullify anti-gambling laws. A detective sergeant and an underworld bail bondsman named Billy Skidmore were also indicted. Darrow helped defend Healey, who was elderly. To the surprise of many Healey and the others were acquitted.
Darrow's reference to speeches about the war is to his advocacy for the Allies in World War I and his support of America's entrance into the war. His reference to the Security board is likely to the National Security League. There was a Chicago branch of this league. The National Security League launched a patriotic speaking campaign in the west and central northwest that opened in Minneapolis in September of 1917. Darrow's reference to being "'right in it' with the fellows who have always been against me" is to the fact that Darrow's support for the Allies and America's involvement in the war helped resurrect his career after his 1912 and 1913 bribery trials and brought him into contact with more conservative politicians and business people.
Click on the image to view as a PDF. A transcription of the letter is on the right.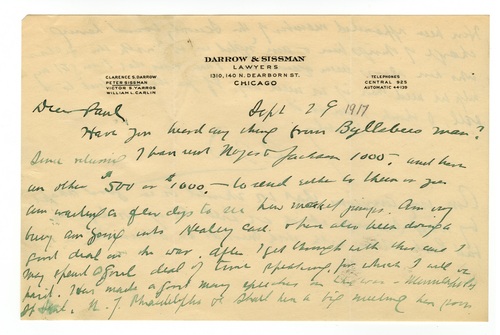 Darrow & Sissman
Lawyers
1310, 140 N. Dearborn St.
Chicago

Clarence S. Darrow
Peter Sissman
Victor S. Yarros
William L. Carlin
Telephones
Central 925
Automatic 44-139
Sept 29 1917
Dear Paul
Have your heard any thing from Byllsbees man? Since returning I have sent Noyes & Jackson 1000— and have an other $500 or $1000— to send either to them or you[.] Am waiting a few days to see how market jumps. Am very busy am going into Healey case. And have also been doing a good deal on the war. After I get through with this case I may spend a good deal of time speaking for which I will be paid. Have made a good many speeches on the war— Minneapolis St. Paul, N.Y. Philadelphia etc. Shall have a big meeting here soon[.]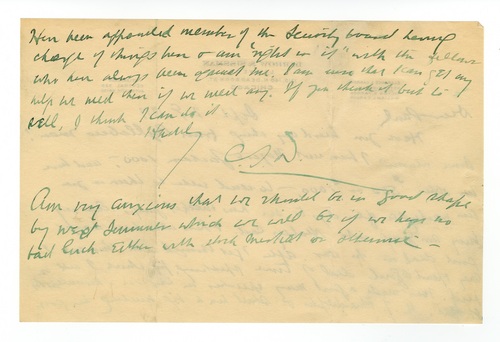 Have been appointed member of the Security board having charge of things here & am "right in it" with the fellows who have always been against me. I am sure that I can get any help we need there if we need any. If you think it best to sell, I think I can do it.
Hastily
C.S.D.
Am very anxious that we should be in good shape by next summer which we will be if we have no bad luck. Either with stock market or otherwise—