Clarence Darrow to Paul Darrow, May 28, 1917
Click on the image to view as a PDF. A transcription of the letter is on the right.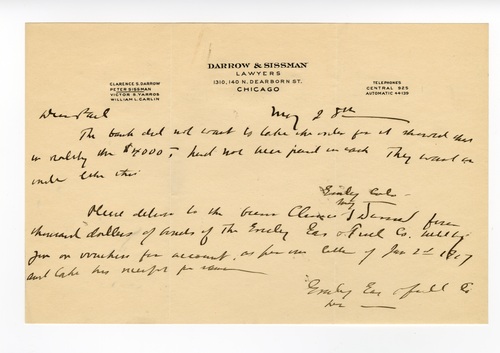 Darrow & Sissman
Lawyers
1310, 140 N. Dearborn St.
Chicago

Clarence S. Darrow
Peter Sissman
Victor S. Yarros
William L. Carlin
Telephones
Central 925
Automatic 44-139
May 28 th
Dear Paul
The bank did not want to take the order for it showed that in reality the $4000? had not been paid in cash[.] They want us under take this.
Please deliver to the [?] Clarence S Darrow (Greeley Colo. May) four thousand dollars of bonds of the Greeley Gas & Fuel Co. billing you on vouchers for account as per our letter of Jan 2d 1917 and take his receipt for same[.]
Greeley Gas & fuel Co.
D ________