Clarence Darrow to Paul Darrow, May 14, 1917
Darrow's statement about the DePriest case is a reference to Oscar DePriest, a black alderman from Chicago's Second Ward who was indicted on conspiracy charges for allegedly protecting illegal gambling and prostitution operations. Darrow convinced an all white jury to find DePriest not guilty. DePriest was Chicago's first black alderman. In 1928 DePriest was elected to Congress as a member of the Republican party. He was the first black elected to Congress since Reconstruction.
Click on the image to view as a PDF. A transcription of the letter is on the right.
Darrow & Sissman
Lawyers
1310, 140 N. Dearborn St.
Chicago

Clarence S. Darrow
Peter Sissman
Victor S. Yarros
William L. Carlin
Telephones
Central 925
Automatic 44-139
May 14
Dear Paul
Just returned from the bank & fixed up that matter[.] Gave them the $4000— owed them $4000— in bonds 63 to 70 Inclusive. Send me an order for the 4000— bonds that are there. The stock market doesnt look very good but think we had better hold on. think I can take care of it until July & it ought to be all right as it is. If you are short any thing there [expect?] it a good time to come. Things ought not to go lower. Glad you sold some bonds & hope you can sell more. I was sorry not to come but couldnt get away. Go into the trial of the De Priest case on Tuesday. (one of the Chicago graft cases) & it will probably take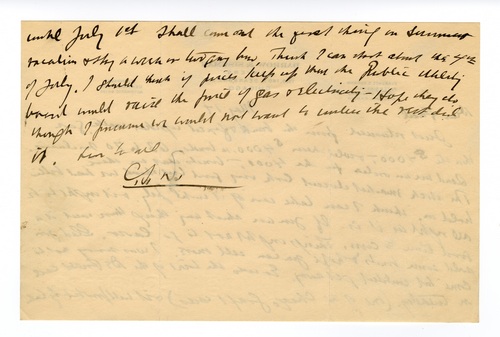 until July 1st[.] Shall come out the first thing on summer vacation & stay a week or two any how. Think I can start about the 4th of July. I should think if prices keep up there the Public Utility board would raise the price of gas & electricity. Hope they do though I presume we would not want to unless the [rest?] did it.
Love to all
C.S.D.