Clarence Darrow to Paul Darrow, April 17, 1917
Click on the image to view as a PDF. A transcription of the letter is on the right.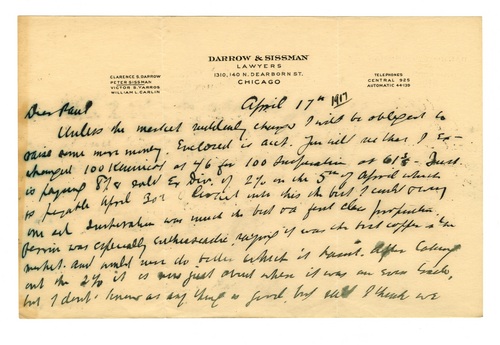 Darrow & Sissman
Lawyers
1310, 140 N. Dearborn St.
Chicago

Clarence S. Darrow
Peter Sissman
Victor S. Yarros
William L. Carlin
Telephones
Central 925
Automatic 44-139
April 17 th 1917
Dear Paul
Unless the market suddenly changes I will be obliged to raise some more money. Enclosed is acct. You will see that I exchanged 100 Kennicot at 46 for 100[?] at 61-3/8 ? Inst. is paying [8?] sold Ex Div. of 2% on the 5th of April which is payable April 30th[.] Looked into this the best I could & every one said [?] was much the best & a first class proposition. [?] was especially enthusiastic saying it was the best copper in the market. And would sure do better which it hasn't. After taking out the 2% it is now just about where it was on even track. But I dont know as any thing [?] good, but still I think we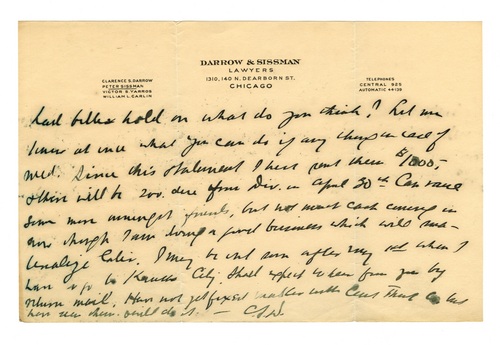 had better hold on what do you think? Let me know at once what you can do if any thing in case of need. Since this statement I have sent them $1000.—& there will be 200. due from Div. on April 30th [.] Can name some more [?] friends, but not much cash coming in now though I am doing a good business which will [?] later. I may be out soon after May 1st when I have to go to Kansas City. Shall expect to hear from you by return mail. Have not yet fixed matter with Cent Trust Co. but have seen them & will do it.—
C.S.D.