Clarence Darrow to Paul Darrow, February 1, 1917
Click on the image to view as a PDF. A transcription of the letter is on the right.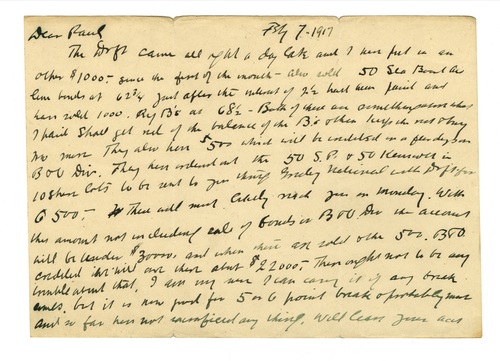 Feby 7 ? 1917
Dear Paul
The Draft came all right a day late and I have put in an other $1000? since the first of the month - Also sold 50 Sea Board Airline bonds at 62? just after the interest of 2?? had been paid and have sold 1000. Ry B''s at 68? - Both of these are something above what I paid[.] Shall get rid of the balance of the B''s & then keep the net & buy no more[.] They also have $500 which will be [?] in a few days on B & O Div. They have [?] out the 50 S.P. & 50 Kennicott in 10 share lots to be sent to you through Greeley National with Draft for 6 500? [.] ? These will most likely reach you on Monday. With this amount not including sale of bonds in B & O Div. the account will be under $30000? and when these are sold & the 500. B & O credited we will owe then about $22000?[.] There ought not to be any trouble about that. I am very sure I can carry it if any break comes, but it is now good for 5 or 6 point break & probably more and so far have not sacrificed any thing. Will leave your acct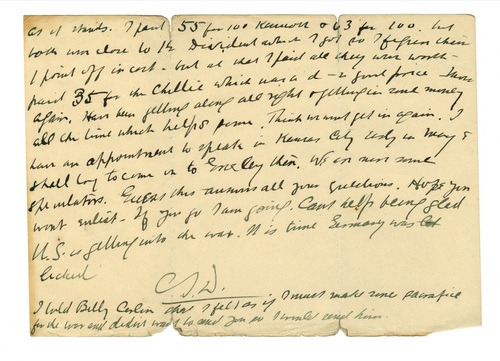 as it stands. I paid 55 for 101 Kennicott & 63 for 100. But both were close to 1½ Dividend which I got so I figure their 1 point off in cost - but at that I paid all they were worth ? paid 35 for the Chillie which was a d - - n good price[.] Never again. Have been getting along all right & getting in some money all the time which helps some. Think we wont get in again. I have an appointment to speak in Kansas City early in May & shall try to come in to Greeley then. We are [near?] some [speculators?]. Guess this answers all your questions. Hope you wont enlist. If you go I am going. Cant help being glad U.S. is getting into the war. It is time Germany was — licked[.]
C.S.D.
I told Billy Carlin that I felt as if I must make some sacrifice for the war and didnt want to send you so I would send him.