Clarence Darrow to Paul Darrow, January 22, 1917
Twain's book, The Mysterious Stranger , was published in 1916.
Click on the image to view as a PDF. A transcription of the letter is on the right.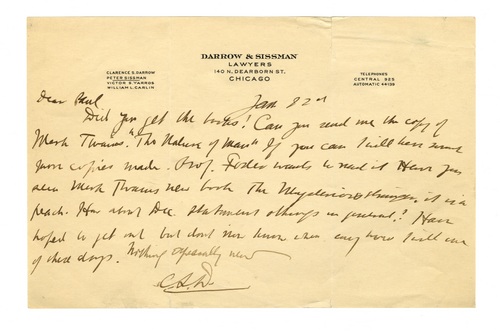 Darrow & Sissman
Lawyers
140 N. Dearborn St.
Chicago

Clarence S. Darrow
Peter Sissman
Victor S. Yarros
William L. Carlin
Telephones
Central 925
Automatic 44-139
Jan 22d
Dear Paul
Did you get the books! Can you send me the copy of Mark Twains,"The Nature of Man"[?] If you can I will have some more copies made. Prof. Foster wants to read it[.] Have you seen Mark Twains new book The Mysterious Stranger, it is a peach. How about Dec. statement & things in general? Have hoped to get out but dont now know when any how I will one of these days. Nothing especially new[.]
C.S.D.