Clarence Darrow to Paul Darrow, ??-??-????
Click on the image to view as a PDF. A transcription of the letter is on the right.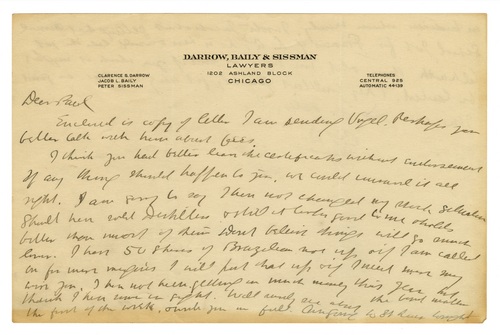 Darrow, Baily & Sissman
Lawyers
1202 Ashland Block
Chicago

Clarence S. Darrow
Jacob L. Baily
Peter Sissman
Telephones
Central 925
Automatic 44-139
Dear Paul
Enclosed is copy of letter I am sending Vogel. Perhaps you better talk with him about fees.
I think you had better leave the certificates without endorsement[.] If any thing should happen to you, we could [unravel?] it all right. I am sorry to say I have not changed my stock situation[.] Should have sold [?] & still it looks good to me & holds better than most of them[.] Dont believe things will go much lower. I have 50 shares of Brazilian not up & if I am called on for more inquiries I will put that up & if I need more may wire you. I have not been getting as much money this year but think I have some in sight. Will surely see about the bond matter the first of the week, & write you in full. Am going to St Louis tonight