Clarence Darrow to Paul Darrow, October 3, ????
Click on the image to view as a PDF. A transcription of the letter is on the right.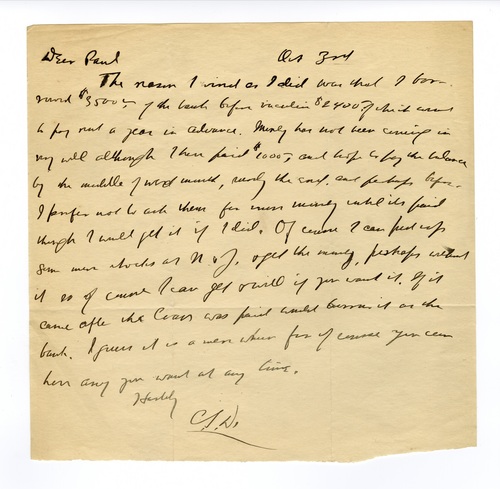 Oct 3rd
Dear Paul
The reason I wired as I did was that I borrowed $3500? of the bank before vacation. $2400? of which comes to pay rent a year in advance. Money has not been coming in very well although I have paid $1000? and hope to pay the balance by the middle of next month, surely the end, and perhaps before. I prefer not to ask them for more money until its paid though I would get it if I did. Of course I can put up some more stocks at N. & J. & get the money, perhaps [without ?] it so of course I can get & will if you want it. If it came after the loan was paid would borrow it on the bank. I guess it is a [?] [?] for of course you can have any you want at any time.
Hastily
C.S.D.