Clarence Darrow to Paul Darrow, September 28, 1916
Click on the image to view as a PDF. A transcription of the letter is on the right.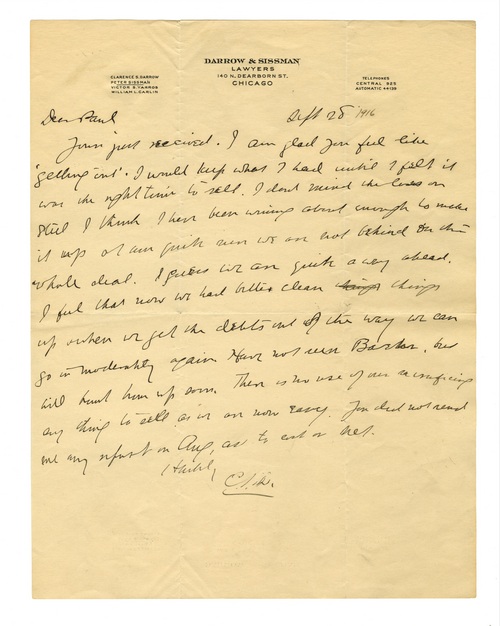 Darrow & Sissman
Lawyers
140 N. Dearborn St.
Chicago

Clarence S. Darrow
Peter Sissman
Victor S. Yarros
William L. Carlin
Telephones
Central 925
Automatic 44-139
Sept 28
Dear Paul
Yours just received. I am glad you feel like "getting out". I would keep what I had until I felt it was the right time to sell. I dont mind the [ loses ?] [ on ?] steel I think I have been [ wining ?] about enough to make it up & I am quite sure we are not behind on this whole deal. I guess we are quite a way ahead I feel that now we had better clean xxx things up & when we get the debts out of the way we can go in moderately again. Have not seen Baehr, but will look him up soon. There is no use of our [sacrificing?] any thing to sell as we are now [easy?]. You did not send me any report in Aug. as to cost or net.
Hastily
C.S.D.