Clarence Darrow to Paul Darrow, May 15, ????
Noyes & Jackson was formed in 1908 in Chicago as a full-service investment firm providing brokerage services for securities and commodities. The firm became a NYSE member in 1915.
Click on the image to view as a PDF. A transcription of the letter is on the right.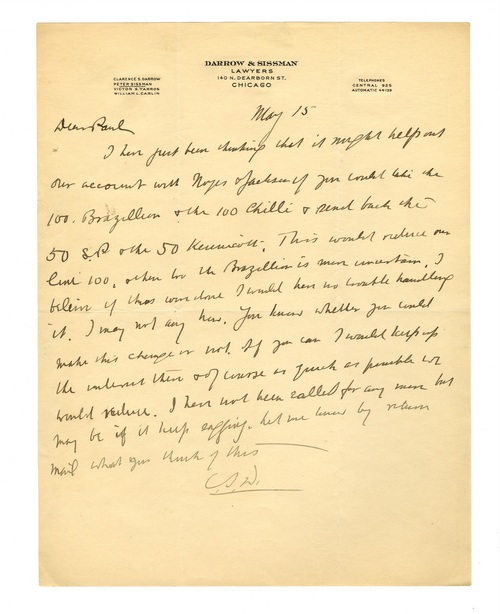 Darrow & Sissman
Lawyers
140 N. Dearborn Street
Chicago

Clarence S. Darrow
Peter Sissman
Victor S. Yarros
William L. Carlin
Telephones
Central 925
Automatic 44-139
May 15
Dear Paul
I have just been thinking that it might help out our account with Noyes & Jackson if you could take the 100. Brazillian & the 100 Chilli & send back the 50 S.P. & the 50 Kennicott. This would reduce our line 100. & then too the Brazillian is more uncertain. I believe if this were done I would have no trouble handling it. I may not any how. You know whether you could make this change or not. If you can I would keep up the interest there & of course as quick as possible we would reduce. I have not been called for any more but may be if it keep [?]. Let me know by return mail what you think of this?
C.S.D.