Clarence Darrow to Paul Darrow, January 31, 1916
On July 24, 1915, the S.S. Eastland, a passenger tour ship based in Chicago, rolled over while tied to a dock in the Chicago River, killing 845 passengers and crew. Darrow successfully defended Joseph M. Erickson, chief engineer, against criminal negligence charges.
Click on the image to view as a PDF. A transcription of the letter is on the right.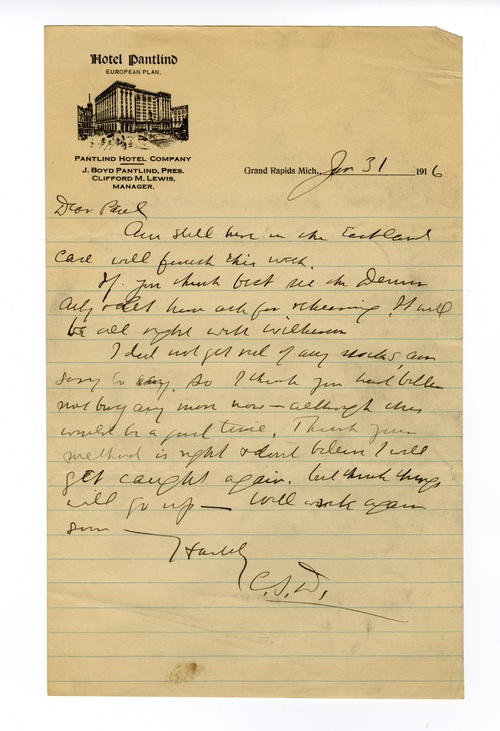 Hotel Pantlind
European Plan
Pantlind Hotel Company
J. Boyd Pantlind, Pres.
Clifford M. Lewis,
Manager
Grand Rapids Mich. Jan 31, 1916
Dear Paul
Am still here on the Eastland Case will finish this week.
If you think best see the Denver Atty & let him ask for rehearing. It will be all right with Wilkenson[.]
I did not get rid of any stocks, am sorry to say. So I think you had better not buy any more now? although this would be a good time. Think your method is right & dont believe I will get caught again, but think things will go up? Will write again soon[.]
Hastily
C.S.D.