Clarence Darrow to Paul Darrow, November 7, 1913
Click on the image to view as a PDF. A transcription of the letter is on the right.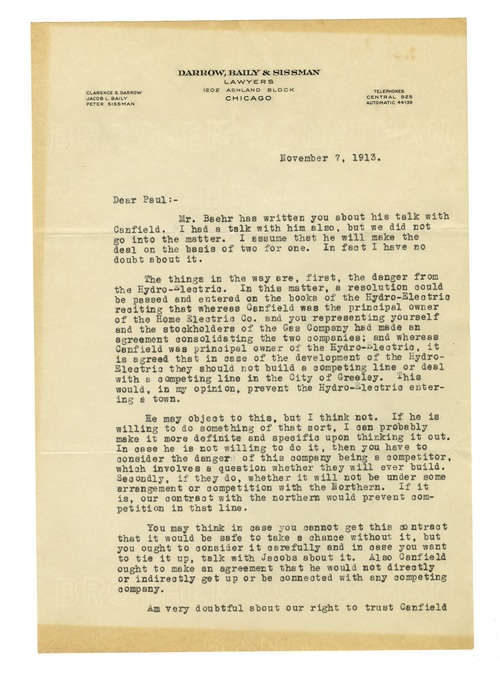 November 7, 1913.
Dear Paul:-
Mr. Baehr has written you about his talk with Canfield. I had a talk with him also, but we did not go into the matter. I assume that he will make the deal on the basis of two for one. In fact I have no doubt about it.
The things in the way are, first, the danger from the Hydro-Electric. In this matter, a resolution could be passed and entered on the books of the Hydro-Electric reciting that whereas Canfield was the principal owner of the Home Electric Co. and you representing yourself and the stockholders of the Gas Company had made an agreement consolidating the two companies; and whereas Canfield was principal owner of the Hydro-Electric, it is agreed that in case of the development of the Hydro-Electric they should not build a competing line or deal with a competing line in the City of Greeley. This would, in my opinion, prevent the Hydro-Electric entering a town.
He may object to this, but I think not. If he is willing to do something of that sort, I can probably make it more definite and specific upon thinking it out. In case he is not willing to do it, then you have to consider the danger of this company being a competitor, which involves a question whether they will ever build. Secondly, if they do, whether it will not be under some arrangement or competition with the Northern. If it is, our contract with the northern would prevent competition in that line.
You may think in case you cannot get this contract that it would be safe to take a chance without it, but you ought to consider it carefully and in case you want to tie it up, talk with Jacobs about it. Also Canfield ought to make an agreement that he would not directly or indirectly get up or be connected with any competing company.

Am very doubtful about our right to trust Canfield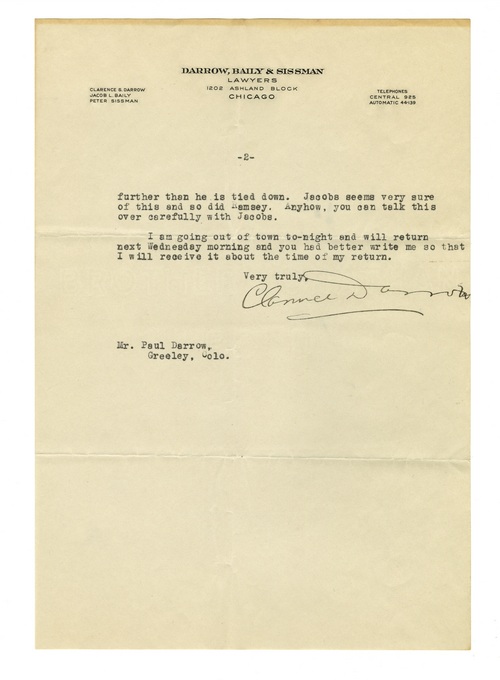 further than he is tied down. Jacobs seems very sure of this and so did Ramsey. Anyhow, you can talk this over carefully with Jacobs.
I am going out of town to-night and will return next Wednesday morning and you had better write me so that I will receive it about the time of my return.
Very truly,
Clarence Darrow
Mr. Paul Darrow
Greeley, Colo.