Clarence Darrow to Paul Darrow, October 23, 1913
Click on the image to view as a PDF. A transcription of the letter is on the right.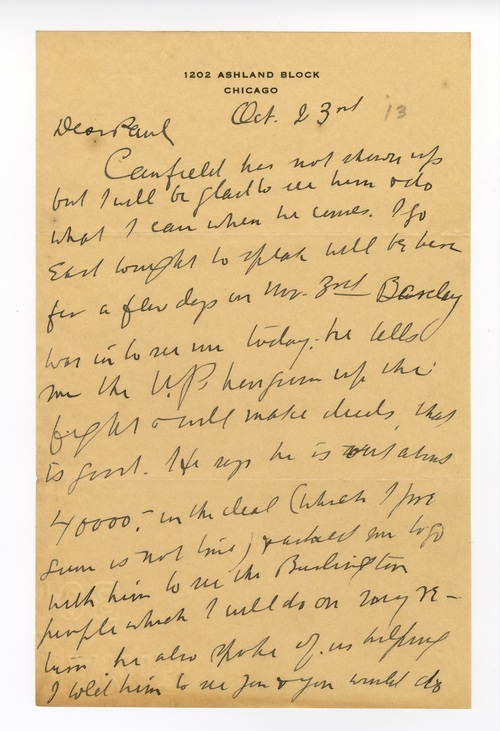 1202 Ashland Block
Chicago
Oct 23rd
Dear Paul
Canfield has not shown up but I will be glad to see him & do what I can when he comes. I go East tonight to speak will be here for a few days on Nov. 3rd [.] Barclay was in to see me today: he tells me the U.P. has given up the fight & will make deals, that is good. He says he is out about 40000? in the deal (which I presume is not true) & asked me to go with him to see the Burlington people which I will do on my return[.] He also spoke of us helping [.] I told him to see you & you would do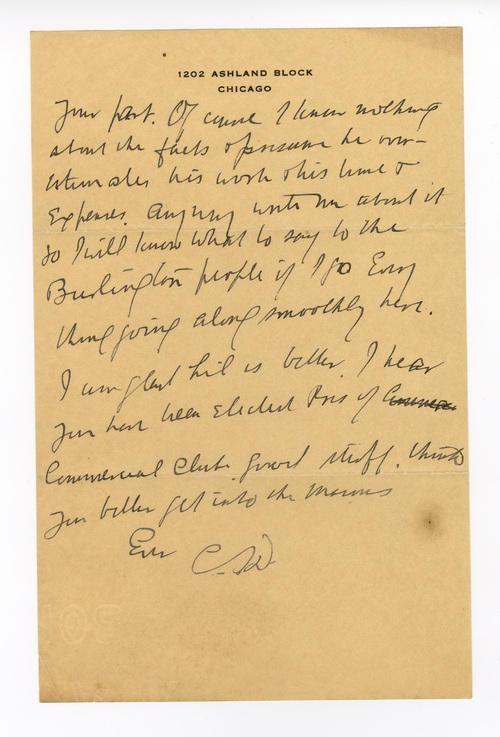 your part. Of course I know nothing about the facts & presume he over-estimates his work & his time & expenses. Any way write me about it so I will know what to say to the Burlington people if I go[.] Every thing going along smoothly here. I am glad Lil is better[.] I hear you have been elected Pres of xxx Commercial Club. Good stuff. Think you better get into the Marines[.]
C.S.D.