Clarence Darrow to Paul Darrow, August 16, 1913
Darrow's statement about the "Chataqua Inst." is a reference to the Chautauqua, an adult education movement in the United States. The Chautauqua lecture series was very popular in the late 19th and early 20th centuries. Darrow began giving speeches at Chautauqua meetings after his bribery trials were over and he would come to rely on Chautauqua lecture fees in the years to come.
Click on the image to view as a PDF. A transcription of the letter is on the right.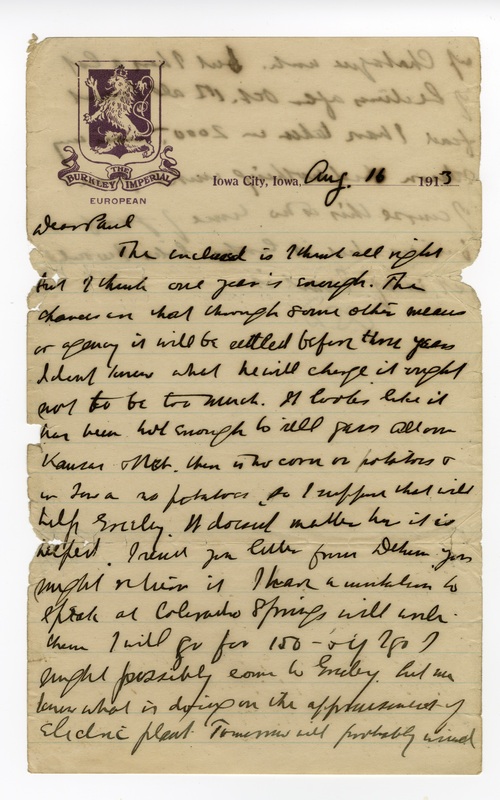 The Burkley Imperial
European
Iowa City, Iowa, Aug. 16 1913
Dear Paul
The enclosed is I think all right but I think one year is enough. The chances are that through some other means or agency it will be settled before three years[.] I dont know what he will charge it ought not to be too much. It looks like it has been hot enough to sell [][.] All over Kansas & Neb. there is no corn or potatoes & in Iowa no potatoes so I suppose that will help Greeley. It doesnt matter how it is helped. I sent you letter from [?] you might return it[.] I have a invitation to speak at Colorado Springs will write them I will go for 150— & if I go I might possibly come to Greeley. Let me know what is doing on the appraisement of electronic plant. Tomorrow will probably wind