Clarence Darrow to Paul Darrow, May 14, 1913
Darrow is referring to the likelihood that the district attorney in Los Angeles will drop the bribery charges and not try Darrow in a third bribery trial.
Click on the image to view as a PDF. A transcription of the letter is on the right.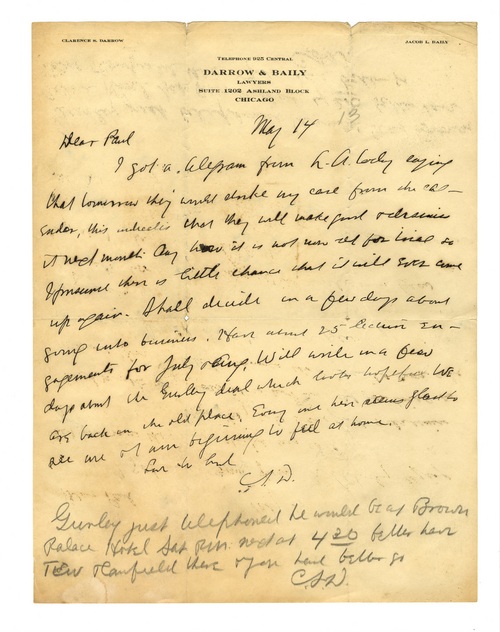 CLARENCE S. DARROW
JACOB I. BAILY
TELEPHONE CENTRAL
DARROW & BAILY
LAWYERS
SUITE 1202 ASHLAND BLOCK
CHICAGO
May 14
Dear Paul
I got a telegram from L.A. today saying that tomorrow they would strike my case from the calendar, this indicates that they will make good & [dismiss ?] it next month. Any how it is not now set for trial so I presume there is little chance that it will ever come up again. Shall decide in a few days about going into business. Have about 25 lecture engagements for July & Aug. Will write in a few days about the Greeley deal which looks hopeful. We are back in the old place. Every one here seems glad to see me & I am beginning to feel at home.
Love to Lil
C.S.D
[Grinley?] just telephoned he would be at Brown Palace Hotel Sat pm meet at 4 30 better have [?] & Canfield there & you had better go[.]
C.S.D