Clarence Darrow to Paul Darrow, January 9, 1913
Clarence Darrow is discussing his second bribery trial. Darrow is referring to Orlando Woodworth "O.W." Powers, a former judge from Salt Lake City, Utah who had recently moved to Los Angeles. Powers had replaced Horace Appel on Darrow's defense team. Darrow's remark that "R is always uncertain" is a reference to Earl Rogers, whose heavy drinking was destroying his health and eventually forced him to retire from Darrow's defense. Powers gave a closing argument on behalf of Darrow.
While in Utah, Powers served as the special prosecutor representing the United States during the prosecution of Mormons for polygamy. Powers sent 4,000 Mormons to prison while enforcing the Edmunds-Tucker Act - as a prosecutor or during the brief time he served as Associate Justice of the Supreme Court of Utah. He was appointed to the Supreme Court of Utah by President Cleveland in 1885. Powers later became an important defender of Mormons who gave up polygamy and fought to protect them from religious prosecution. He later advocated that those sentenced to prison for polygamy be released and nearly all were released.
Darrow's reference to Senator Brown is to Arthur Brown, one of the first two U.S. senators elected after Utah gained statehood. Prior to serving in the Senate Brown was a lawyer. He was also notorious for his private life. For several years Brown carried on an affair with his mistress Anne M. Bradley, who was also married. He led Bradley to believe that he would divorce his wife and marry Bradley. On February 7, 1900, she gave birth to a son and she claimed Brown was the father. Brown's wife had him arrested for adultery twice but refused to grant him a divorce. Bradley also became pregnant again. At one point Bradley found letters to Brown written by an actress. Bradley believed the letters indicated that Brown was going to marry this other woman.
On December 8, 1906, Bradley confronted Brown in a hotel room in Washington, D.C. and shot him. Brown lingered until he died on December 13. Bradley was charged with murder. At her trial Bradley claimed temporary insanity. Orlando W. Powers and a young Washington lawyer defended her. Details came out during the trial which turned public opinion against Brown. For example, Bradley had three illegal abortions that were performed by Brown himself. Also, Brown's will renouncing Bradley and the two sons she claimed he had fathered became public. On December 3, 1907 the jury found Bradley not guilty of murder.
Click on the image to view as a PDF. A transcription of the letter is on the right.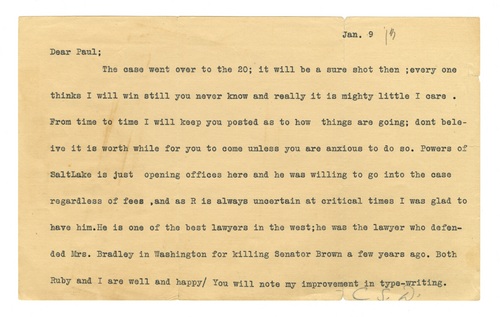 Jan. 9
Dear Paul;
The case went over to the 20; it will be a sure shot then ;every one thinks I will win still you never know and really it is mighty little I care. From time to time I will keep you posted as to how things are going; dont beleive it is worth while for you to come unless you are anxious to do so. Powers of SaltLake is just opening offices here and he was willing to go into the case regardless of fees ,and as R is always uncertain at critical times I was glad to have him.He is one of the best lawyers in the west;he was the lawyer who defended Mrs. Bradley in Washington for killing Senator Brown a few years ago. Both Ruby and I are well and happy/ You will note my improvement in type-writing.
C.S.D.