Clarence Darrow to Paul Darrow, December 22, 1912
Click on the image to view as a PDF. A transcription of the letter is on the right.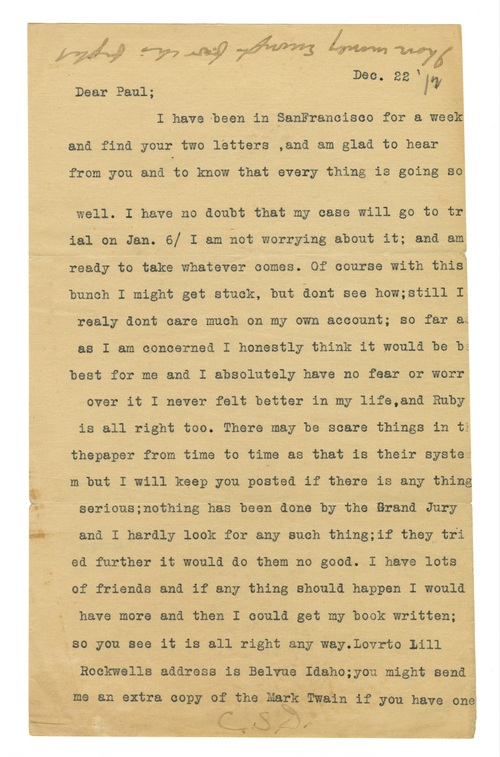 Dec. 22
Dear Paul:
I have been in SanFrancisco for a week and find your two letters, and am glad to hear from you and to know that every thing is going so well. I have no doubt that my case will go to trial on Jan. 6/ I am not worrying about it; and am ready to take whatever comes. Of course with this bunch I might get stuck, but dont see how;still I realy dont care much on my own account; so far a as I am concerned I honestly think it would be b best for me and I absolutely have no fear or worry over it I never felt better in my life,and Ruby is all right too. There may be scare things in t thepaper from time to time as that is their system but I will keep you posted if there is any thing serious;nothing has been done by the Grand Jury and I hardly look for any such thing;if they tried further it would do them no good. I have lots of friends and if any thing should happen I would have more and then I could get my book written; so you see it is all right any way.Lovrto Lill Rockwells address is Belvue Idaho;you might send me an extra copy of the Mark Twain if you have one.
C.S.D.
I have money enough for this fight
[hand writing appearing upside down at the top of the letter]