Clarence Darrow to Paul Darrow, October 30, 1912
Click on the image to view as a PDF. A transcription of the letter is on the right.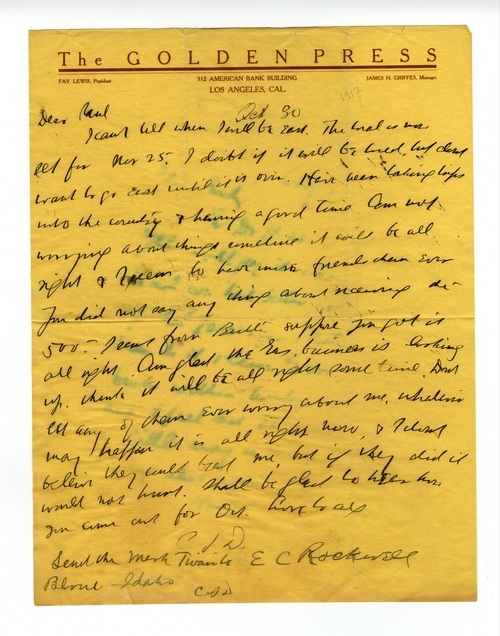 The Golden Press
512 American Bank Building
Suite 403 California Building
Los Angeles, Cal.
Fay Lewis, President
James H. Griffes, Manager

Oct 30
Dear Paul
I cant tell when I will be East. The trial is now set for Nov 25. I doubt if it will be tried but dont want to go East until it is over. Have been taking trips into the country & having a good time[.] Am not worrying about things sometime it will be all right & I seem to have more friends than ever[.] You did not say any thing about receiving the 500? I sent from [Butte ?] suppose you got it all right. Am glad the Gas business is looking up. Think it will be all right some time. Dont let any of them ever worry about me, whatever may happen it is all right now, & I dont believe they could beat me, but if they did it would not hurt. Shall be glad to hear how you came out for Oct.
Love to all
C.S.D.
Send the Mark Twain to E C Rockwell
Belvue, Id
CSD