Clarence Darrow to Paul Darrow, July 4, 1912
Darrow's remark about Mc Managel is about Ortie McManigal, who was a main witness against the McNamara brothers in regard to the Los Angeles Times bombing. Darrow and the McNamara defense tried very hard to get McManigal to repudiate his confession prior to the beginning of the McNamara trial. McManigal did not testify against Darrow in his first bribery trial but he did testify in Darrow's second bribery trial. McManigal testified that Darrow and the defense had put pressure on him and his family to recant his confession implicating the McNamara brothers. He said his wife threatened to stop coming to the jail to see him if he did not "talk" to Darrow.
Click on the image to view as a PDF. A transcription of the letter is on the right.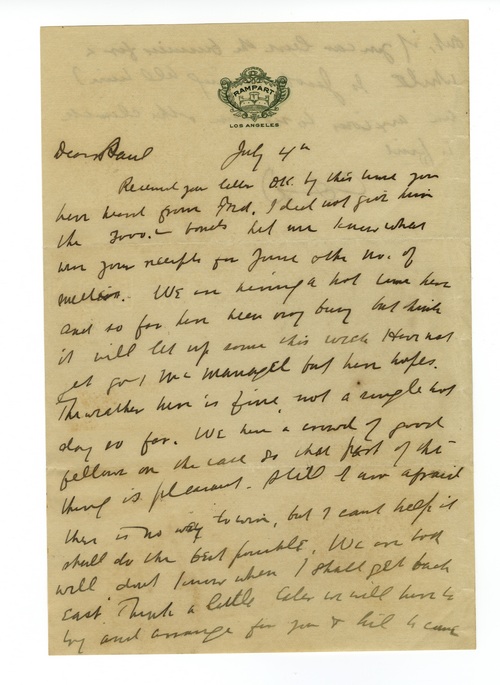 Rampart
Los Angeles
July 4th
Dear Paul
Received your letter O.K. by this time you have heard from Fred. I did not give him the 2000? bonds[.] Let me know what were your receipts for June & the no. of [?]. We are having a hot time here and so far have been very busy but think it will let up some this week[.] Have not yet got Mc Managel but have hopes. The weather here is fine not a single hot day so far. We have a crowd of good fellows on the case so that part of the thing is pleasant. Still I am afraid there is no way to win, but I cant help it shall do the best possible. We are both well dont know when I shall get back east[.] Think a little later we will have to try and arrange for you & Lil to come