Clarence Darrow to Paul Darrow, January 25, 1912
Darrow is referring to Bert Franklin, a former detective for the L.A. County Sheriff and the U.S. Marshal. Franklin had approached Darrow for work during preparations for the McNamara trial, and Darrow hired him as his chief jury investigator to find out information about potential jurors for the trial. Franklin was charged with bribing a potential juror and a selected juror. He pled guilty in a deal with the prosecution and testified before a grand jury - leading to Darrow's indictment for jury bribery. Franklin was a key prosecution witness in both of Darrow's bribery trials.
The reference to ensign could be to Charles B. Ensign (1860 - 1942) or his brother, Adelbert L. Ensign or to their firm, C. B. Ensign & Co. The Ensign firm, based in Chicago, was used by Clarence Darrow and his son as an investment bank for their Greeley Gas & Fuel Company in Colorado.
Click on the image to view as a PDF. A transcription of the letter is on the right.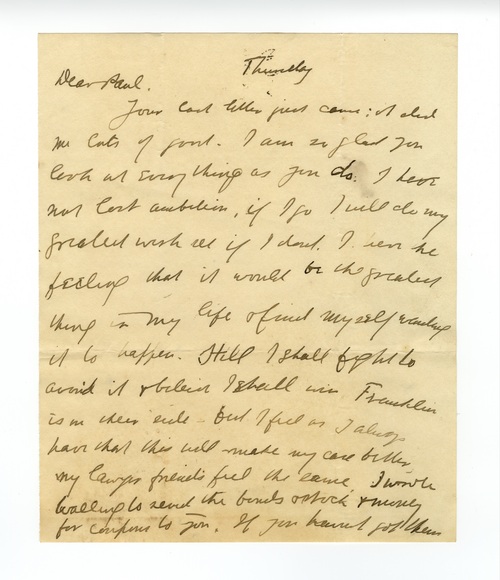 Thursday
Dear Paul.
Your last letter just came: it did me lots of good. I am so glad you look at every thing as you do. I have not lost ambition, if I go I will do my greatest work see if I dont. I have the feeling that it would be the greatest thing in my life & find myself [expecting ?] it to happen. Still I shall fight to avoid it & believe I shall win[.] Franklin is on their side - but I feel as I always have that this will make my case better[.] My lawyer friends feel the same. I wrote Walling to send the bonds & stock & money for coupons to you. If you havent got them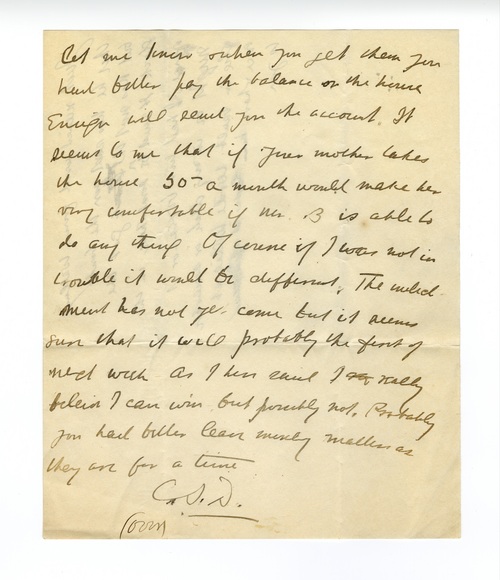 let me know & when you get them you had better pay the balance on the house. Ensign will send you the account. It seems to me that if your mother takes the house 50? a month would make her very comfortable if Mr. B is able to do any thing[.] Of course if I was not in trouble it would be different. The indictment has not yet come but it seems sure that it will probably the first of next week[.] As I have said I xxx really believe I can win but possibly not. Probably you had better leave money matters as they are for a time[.]
C.S.D
(over)