Clarence Darrow to Paul Darrow, January 13, 1912
In late January 1912, Bert Franklin, who Darrow had hired to investigate potential jurors for the trial of the McNamara brothers for bombing the Los Angeles Times building, pled guilty to trying to bribe a juror and he was fined $4,000. Franklin cut a deal with the prosecution and on January 29 he testified before a grand jury. Franklin's testimony implicated Clarence Darrow in two bribery attempts. About 4:00 p.m. that same day Clarence Darrow, accompanied by his attorney Earl Rogers, surrendered to an indictment for bribery involving two jurors. Darrow would be tried in two bribery trials.
Click on the image to view as a PDF. A transcription of the letter is on the right.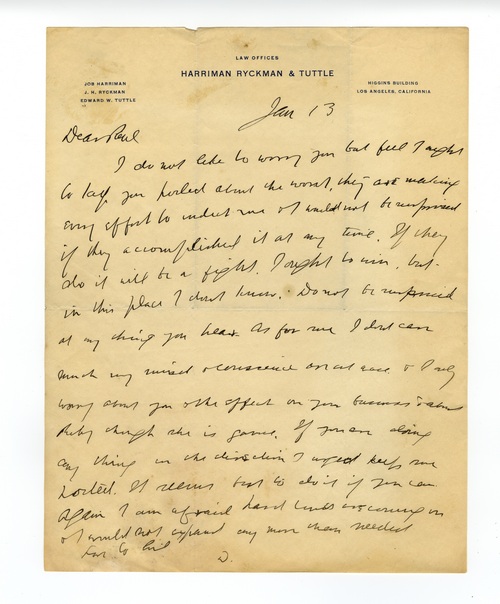 Law Offices
Harriman Ryckman & Tuttle
Jos Harriman
J. M. Ryckman
Edward W. Tuttle
Higgins Building
Los Angeles, California
Jan 13
Dear Paul
I do not like to worry you but feel I ought to keep you posted about the worst, they are making every effort to indict me & I would not be surprised if they accomplished it at any time. If they do it will be a fight. I ought to win, but in this place I dont know. Do not be surprised at any thing you hear. As for me I dont care much my mind & conscience are at ease & I only worry about you & the effect on your business & about Ruby though she is game. If you are doing any thing in the direction I urged keep me posted. It seems best to do it if you can[.] Again I am afraid hard times are coming on & I would not spend any more than needed[.]
Love to Lil
D.