Clarence Darrow to Paul Darrow, January 4, 1912
Darrow's reference to not being afraid is about the danger of his being indicted for jury bribery. Darrow was indicted on January 29, 1912.
Click on the image to view as a PDF. A transcription of the letter is on the right.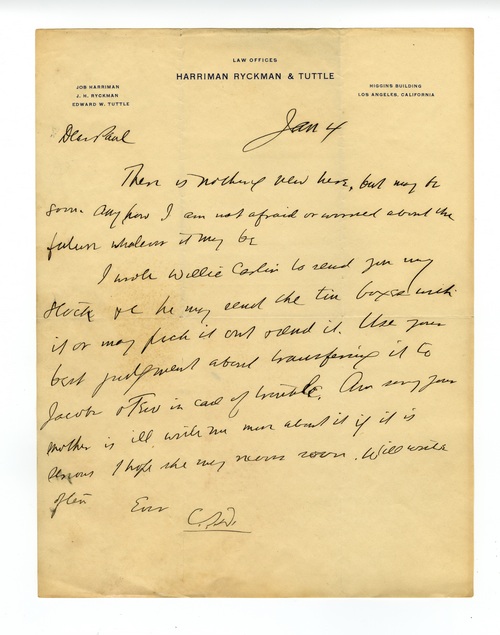 Law Offices
Harriman Ryckman & Tuttle
Jos Harriman
J. M. Ryckman
Edward W. Tuttle
Higgins Building
Los Angeles, California
Jan 4
Dear Paul
There is nothing new here, but may be soon. Any how I am not afraid or worried about the future whatever it may be[.]
I wrote Willie Carlin to send you my stock [ etc ?] he may send the tin boxes with it or may pick it out & send it. Use your best judgment about transferring it to Jacobs & [?] in case of trouble. Am sorry your mother is ill write me more about it if it is serious[.] I hope she may recover soon. Will write often[.]
Ever
C.S.D.