Clarence Darrow to Paul Darrow, January 1, 1912
Clarence Darrow begins this letter by discussing whether he will be charged for attempting to bribe jurors in the trial of the McNamara brothers (who were charged with bombing the Los Angeles Times building). In late January 1912, Bert Franklin, who worked for Darrow during the McNamara defense, pled guilty to trying to bribe a juror and was fined $4,000. Franklin cut a deal with the prosecution and on January 29 he testified before a grand jury and implicated Clarence Darrow in the bribery attempts. Later the same day Darrow surrendered to an indictment for bribery.
Click on the image to view as a PDF. A transcription of the letter is on the right.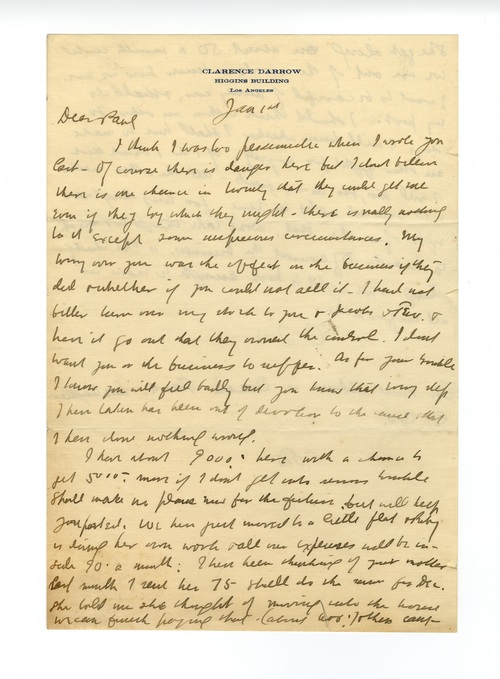 Clarence Darrow
Higgins Building
Los Angeles

Jan 1st
Dear Paul
I think I was too pessimistic when I wrote you last ? Of course there is danger here but I dont believe there is one chance in twenty that they would get me[.] Even if they try which they might? there is really nothing to it except some suspicious circumstances. My worry over you was the effect on the business if they did & whether if you could not sell it. I had [not?] better turn over my stock to you & Jacobs & [?] & have it go out that they owned the control. I dont want you or the business to suffer. As for your trouble I know you will feel badly but you know that every step I have taken has been out of devotion to the cause that I have done nothing wrong.
I have about 9000? here with a chance to get 5000— more if I dont get into serious trouble[.] Shall make no plans now for the future but will keep you posted. We have just moved to a little flat & Ruby is doing her own work & all our expenses will be inside 90 a month. I have been thinking of your mother. Last month I sent her 75 Shall do the same for Dec. She told me she thought of moving into the house[.] We can finish paying that (about [600?] ) & then cant?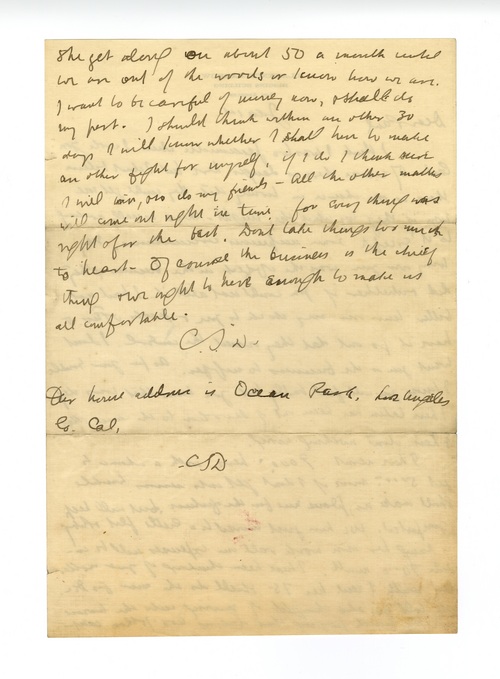 she get along on about 50 a month until we are out of the woods or know how we are. I want to be careful of money now, & shall do my part. I should think within an other 30 days I will know whether I shall have to make an other fight for myself. If I do I think sure I will win, & so do my friends— All the other matters will come out right in time for every thing was right & for the best. Dont take things too much to heart. Of course the business is the chief thing & we ought to have enough to make us all comfortable.
C.S.D.
Our house address is Ocean Park, Los Angeles Co. Cal.
CSD