Clarence Darrow to Paul Darrow, December 29, 1911
Darrow is referring to the possibility that he could be indicted for jury bribery. The letter is written one month before he was indicted - a little after 3:30 p.m. on Monday, January 29, 1912.
Click on the image to view as a PDF. A transcription of the letter is on the right.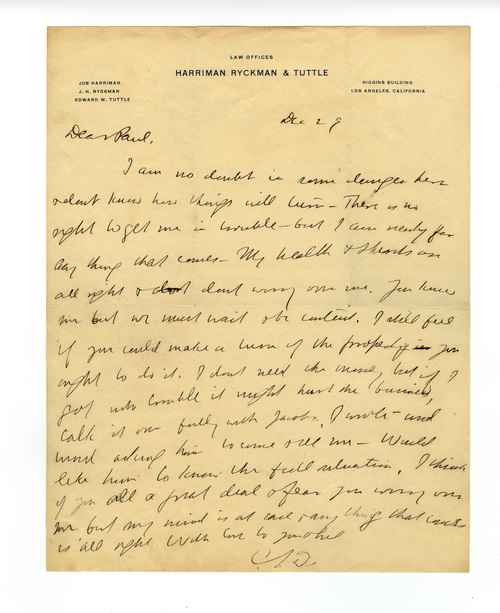 Law Offices
Harriman Ryckman & Tuttle
Jos Harriman
J. M. Ryckman
Edward W. Tuttle
Higgins Building
Los Angeles, California
Dec 29
Dear Paul
I am no doubt in some danger here and dont know how things will turn? There is no right to get me in trouble? but I am ready for any thing that comes. My health & spirits are all right & dont dont worry over me. You know me but we must wait & be content. I still feel if you could make a turn of the property in you ought to do it. I dont need the money, but if I got into trouble it might hurt the business, talk it over fully with Jacobs. I wrote? and wired asking him to come & see me ? Would like him to know the full situation. I think of you all a great deal & fear you worry over me but my mind is at ease & any thing that comes is all right[.]
Ever with love to you & Lil
CSD.