Clarence Darrow to Paul Darrow, September 28, 1911
Click on the image to view as a PDF. A transcription of the letter is on the right.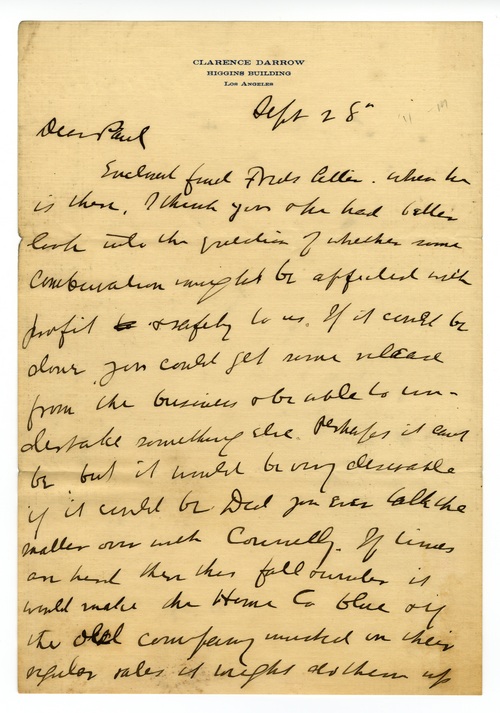 Clarence Darrow
Higgins Building
Los Angeles

Sept 28
Dear Paul
Enclosed find Freds letter. When he is there, I think you & he had better look into the [?] of whether some combination might be [?] with profit xxx & safely to us. If it could be done you could get some release from the business & be able to undertake something else. Perhaps it cant be but it would be very desirable if it could be. Did you ever talk the matter over with Connelly. If times are hard there this fall & winter it would make the Home Co blue & if the old company [insisted ?] on their regular rates it might do them up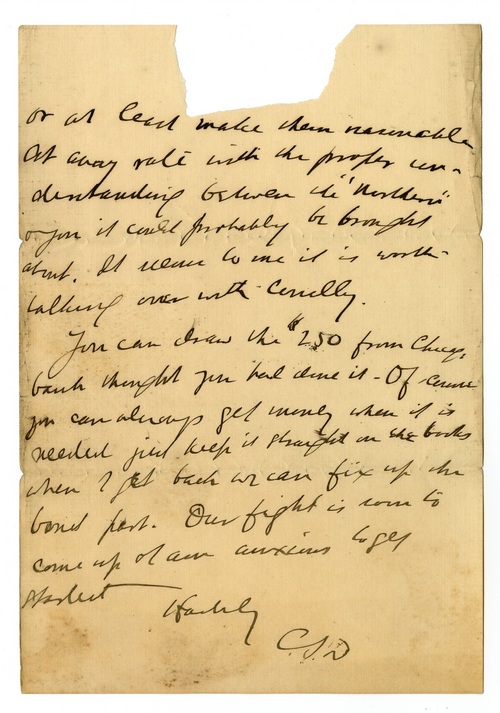 or at least make them reasonable[.] At any rate with the proper understanding between the "Northern" & you it could probably be brought about. It seems to me it is worth talking over with Conelly.
You can draw the $250 from Chicago bank thought you had done it. Of course you can always get money when it is needed just keep it straight in the books[.] When I get back we can fix up the bond part. Our fight is soon to come up & I am anxious to get started[.]
Hastily
C.S.D.