Clarence Darrow to Paul Darrow, July 25, 1911
Click on the image to view as a PDF. A transcription of the letter is on the right.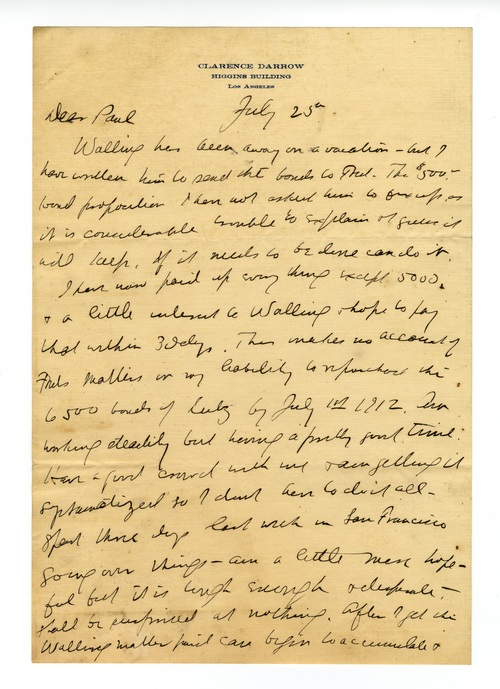 Clarence Darrow
Higgins Building
Los Angeles

July 25th
Dear Paul
Walling has been away on a vacation? but I have written him to send the bonds to Fred. The $500? proposition I have not asked him to fix up as it is considerable trouble to explain & I guess it will keep. If it needs to be done can do it.
I have now paid up every thing except 5000. & a little interest to Walling & hope to pay that within 30 days. This makes no account of Freds matters or any liability to [repurchase?] the 6500 bonds of Lutz by July 1st 1912. Am working steadily but having a pretty good time. Have a good crowd with me & am getting it systematized so I dont have to do it all. Spent three days last week in San Francisco going over things? am a little more hopeful but it is tough enough & desperate? shall be surprised at nothing. After I get the Walling matter paid can begin to accumulate &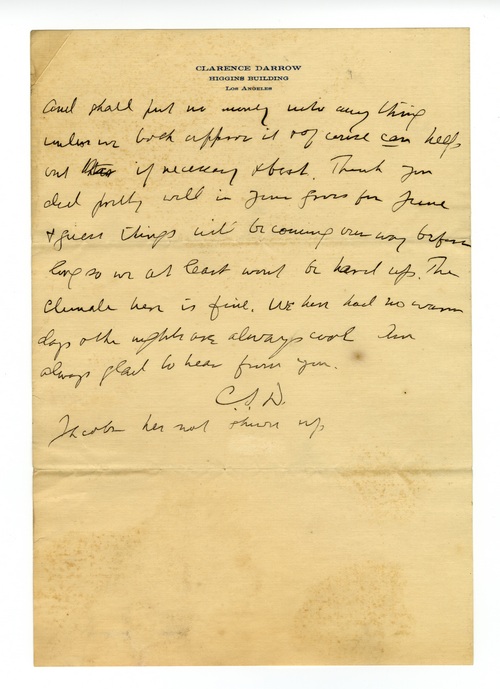 And shall put no money into any thing unless we both approve it & of course can help, out if necessary & best. Think you did pretty well in your [?] for June & guess things will be coming our way before long so we at least wont be hard up. The climate here is fine. We have had no warm days & the nights are always cool [.] Am always glad to hear from you.
C.S.D.
Jacob has not shown up