Clarence Darrow to Edmond F. Richardson, November 5, 1906
Darrow is referring to George E. Dickson who was for several years the president of the Workmen's Legal Security Company in Chicago. In that capacity he investigated accidents and filed lawsuits for workers injured on the job. Dickson had worked for Darrow before and while preparing for the Haywood trial, Darrow employed Dickson as the lead defense investigator trying to find out the real identity of Harry Orchard. The defense was unsuccessful and did not find out Orchard's real name until he revealed it on the witness stand. Darrow and Richardson did not get along and a major part of the difficulty was Darrow's investigator George Dickson. Before the trial Darrow offered to withdraw from the case but the defense eventually persuaded him to remain. Darrow's reference to "Adams" is to Steve Adams who the defense and prosecution fought over because he was the key witness who could corroborate Harry Orchard's confession and testimony. The reference to "Mr. Kirwin" is to James Kirwan, a member of the Western Federation of Miners' (WFM) executive board. The reference to the "Cripple Creek matter" is likely about a bitter labor struggle involving the WFM in Cripple Creek, Colorado in 1903 and 1904. The reference to "Nugent" is to John F. Nugent, a Silver City lawyer, former miner and friend of Haywood. Nugent was part of the defense team.
Click on the image to view as a PDF. A transcription of the letter is on the right.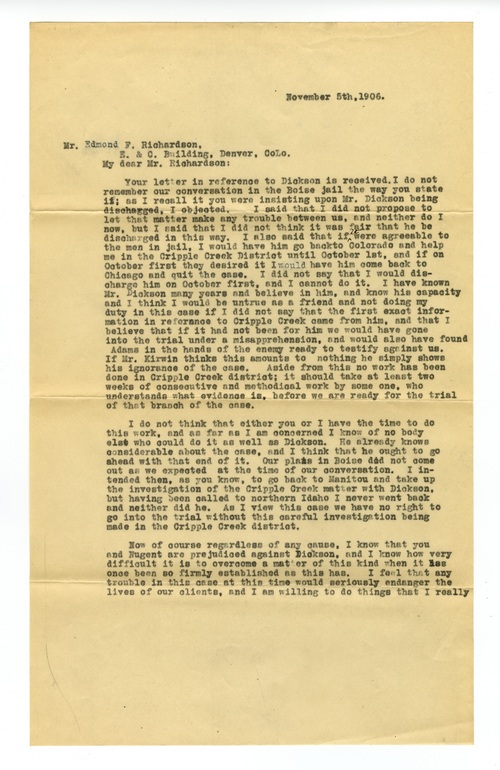 November 5th,1906.
Mr. Edmond F. Richardson,
E. & C. Building, Denver, CoLo.
My dear Mr. Richardson:
Your letter in reference to Dickson is received. I do not remember our conversation in the Boise jail the way you state it; as I recall it you were insisting upon Mr. Dickson being discharged, I objected. I said that I did not propose to let that matter make any trouble between us, and neither do I now, but I said that I did not think it was fair that he be discharged in this way. I also said that if it were agreeable to the men in jail, I would have him go back to Colorado and help me in the Cripple Creek District until October 1st, and if on October first they desired it I would have him come back to Chicago and quit the case. I did not say that I would discharge him on October first, and I cannot do it. I have known Mr. Dickson many years and believe in him, and know his capacity and I think I would be untrue as a friend and not doing my duty in this case if I did not say that the first exact information in reference, to Cripple Creek came from him, and that I believe that if it had not been for him we would have gone into the trial under a misapprehension, and would also have found Adams in the hands of the enemy ready to testify against us. If Mr. Kirwin thinks this amounts to nothing he simply shows his ignorance of the case. Aside from this no work has been done in Cripple Creek district; it should take at least two weeks of consecutive and methodical work by some one, who understands what evidence is, before we are ready for the trial of that branch of the case.
I do not think that either you or I have the time to do this work, and as far as I am concerned I know of no body else who could do it as well as Dickson. He already knows considerable about the case, and I think that he ought to go ahead with that end of it. Our plans in Boise did not come out as we expected at the time of our conversation. I intended then, as you know, to go back to Manitou and take up the investigation of the Cripple Creek matter with Dickson, but having been called to northern Idaho I never went back and neither did he. As I view this case we have no right to go into the trial without this careful investigation being made in the Cripple Creek district.
Now of course regardless of any cause, I know that you and Nugent are prejudiced against Dickson, and I know how very difficult it is to overcome a matter of this kind when it has once been so firmly established as this has. I feel that any trouble in this case at this time would seriously endanger the lives of our clients, and I am willing to do things that I really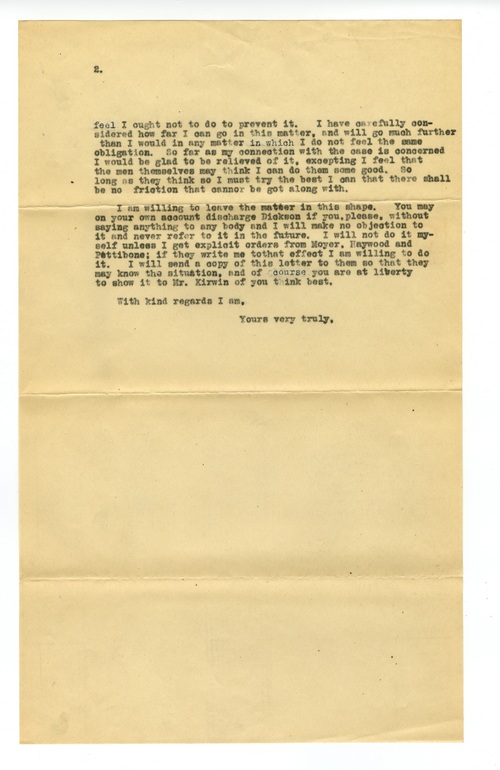 2.
feel I ought not to do to prevent it. I have carefully considered how far I can go in this matter, and will go much further than I would in any matter in which I do not feel the same obligation. So far as my connection with the case is concerned I would be glad to be relieved of it, excepting I feel that the men themselves may think I can do them some good. So long as they think so I must try the best I can that there shall be no friction that cannot be got along with.
I am willing to leave the matter in this shape. You may on your own account discharge Dickson if you, please, without saying anything to any body and I will make no objection to it and never refer to it in the future. I will not do it myself unless I get explicit orders from Moyer, Haywood and Pettibone; if they write me to that effect I am willing to do it. I will send a copy of this letter to them so that they may know the situation and of course you are at liberty to show it to Mr. Kirwin of you think best.
With kind regards I am,
Yours very truly.