Clarence Darrow to Jessie Ohl Darrow, March 16, 1904
Click on the image to view as a PDF. A transcription of the letter is on the right.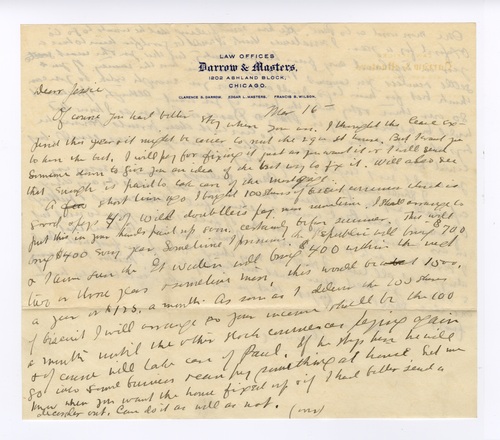 Law Offices
Darrow & Masters,
1202 Ashland Block,
Chicago.
Clarence S. Darrow, Edgar L. Masters, Francis S. Wilson.
March 16
Dear Jessie
Of course you had better stay where you are. I thought the lease expired this year & it might be easier to rent the 29th St. house. But I want you to have the best. I will pay for fixing it just as you want it or I will send Someone down to give you an idea of the best way to fix it. Will also see that enough is paid to take care of the mortgage.
A few short time ago I bought 100 shares of biscuit common which is good & pays 4% [.] Will doubtless pay more sometime. I shall arrange to put this in your hands paid up soon. Certainly before summer. This will bring $400 every year[.] Sometime I presume the Republic will bring $700 & I am sure the Gt [?] will bring $400 within the next two or three years & sometime [ more?], this would be about 1500 a year or $ 125 a month. As soon as I deliver the 100 shares of biscuit I will arrange so your income shall be the 100 a month until the other stock [?] are paying again & of course will take care of Paul. If he stays here he will go into some business & can try something at home. Let me know when you want the house fixed up & if I had better send a decorator out. Can do it as well as not.
(over)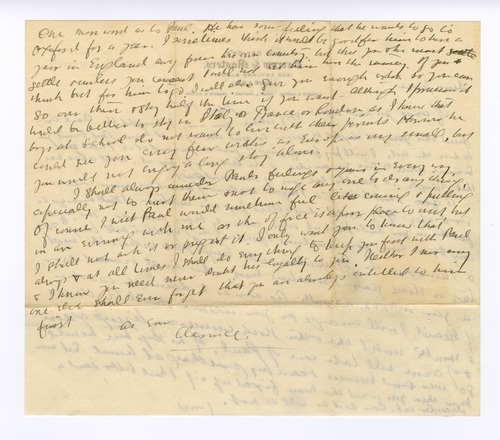 One more word as to Paul. He has some feeling that he wants to go to Oxford for a year. I sometimes think it would be good for him to have a year in England away from his own country but that you & he must settle settle & unless you consent I will not let him have the money. If you think best for him to go I will also give you enough extra so you can go over there and stay half the time if you want. Although I presume it would be better to stay in Italy or France or London, as I know that boys at school do not want to live with their parents[.] However he could see you every few weeks, as Europe is very small, but you would not enjoy a long stay alone.
I shall always consider Paul's feelings & yours in every way especially not to hurt them & not to urge any one to do any thing. Of course I wish Paul would sometime feel like coming and putting in an evening with me as the office is a poor place to visit, but I shall not ask it or suggest it. I only want you to know that always & at all times I shall do every thing to keep you first with Paul & I know you need never doubt his loyalty to you. Neither I nor any one else shall ever forget that you are always entitled to him first[.]
As Ever
Clarence