Clarence Darrow to Jessie Ohl Darrow, March 10, 1904
Click on the image to view as a PDF. A transcription of the letter is on the right.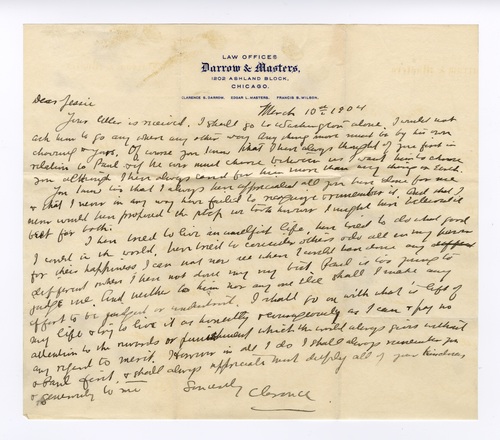 Law Offices
Darrow & Masters,
Ashland Block,
Chicago.
Clarence S. Darrow, Edgar L. Masters, Francis S. Wilson.
March 10 th 1904
Dear Jessie
Your letter is received. I shall go to Washington alone. I would not ask him to go any where any other way[.] Any thing more must be by his own choosing & yours. Of course you know that I have always thought of you first in relation to Paul & if he ever must choose between us I want him to choose you although I have always cared for him more than any thing on Earth.
You know too that I always have appreciated all you have done for me & that I never in any way have failed to recognize & remember it. And that I never would have proposed the step we took however I might have believed it best for both.
I have tried to live an unselfish life, have tried to do what good I could in the world, have tried to consider others & do all in my power for their happiness[.] I can not now see where I could have done any different different & where I have not done my very best. Paul is too young to judge me. And neither to him nor any one else shall I make any effort to be judged or understood. I shall go on with what is left of my life & try to live it as honestly & courageously as I can & pay no attention to the rewards or punishment which the world always gives without any regard to merit. However in all I do I shall always remember you & Paul first, & shall always appreciate most deeply all of your kindness, & generosity to me[.]
Sincerely
Clarence .