Clarence Darrow to Jessie Ohl Darrow, 1899
Click on the image to view as a PDF. A transcription of the letter is on the right.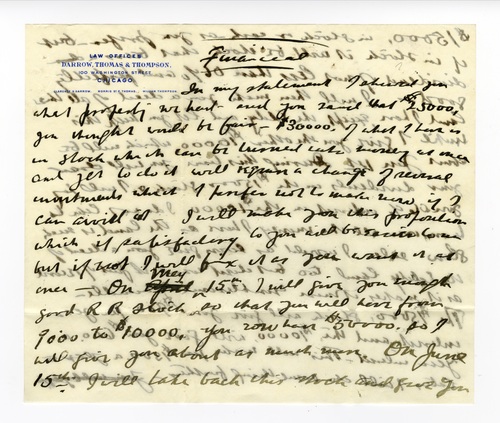 Law Offices
Darrow, Thomas & Thompson,
100 Washington Street
Chicago
Clarence S. Darrow, S.P. Thomas, William Thompson
Financial
In my statement I showed you what property we had— and you said that $25000, you thought would be fair - $30000, of what I have is in stock which can be turned into money at once and yet to do it will require a change of several investments which I prefer not to make now if I can avoid it. I will make you this proposition which if satisfactory to you will be easier to me but if not I will fix it as you want it at once— On
April
May 15th I will give you enough good RR stock so that you will have from 9000 to $10000. You now have $50000. so I will give you about as much [more?]. On June 15th I will take back this stock and give you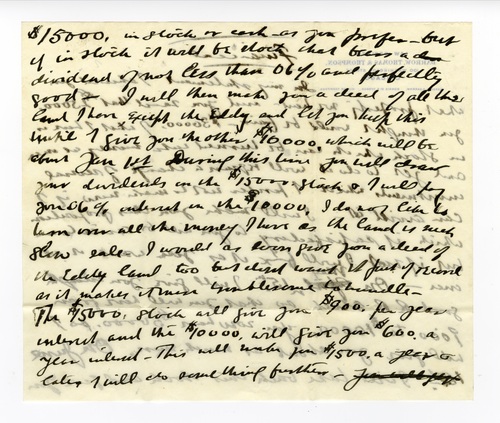 $15000, in stock or cash as you prefer — but if in stock it will be stock that [gets ?] a xxx dividend of not less than 06% and perfectly good— I will then make you a deed of all the land I have except the Eddy, and let you keep this until I give you the other $10000, which will be about Jan 1st [.] During this time you will draw your dividends on the $15000 stock & I will pay you 06% interest on the $10000[.] I do not like to turn over all the money I have as the land is such slow sale. I would as soon give you a deed of the Eddy land too but dont want it part of record as it makes it more troublesome to handle— The $15000. stock will give you $900. per year interest and the $10000. will give you $600. a year interest - This will make you $1500. a year & later I will do some thing further - you? will? get ?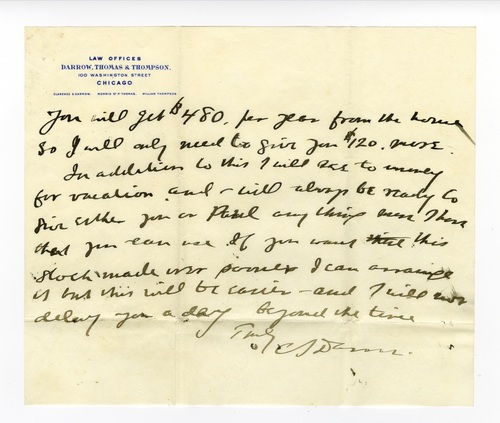 you will get $480. per year from the house so I will only need to give you $120. more. In addition to this I will see to money for vacation and will always be ready to give either you or Paul any thing more I have that you can use. If you want
this stock made even sooner I can arrange it but this will be easier— and I will not delay you a day beyond the time [.]
C. S. Darrow