Clarence Darrow to Jessie Ohl Darrow, July 7, 1899
Click on the image to view as a PDF. A transcription of the letter is on the right.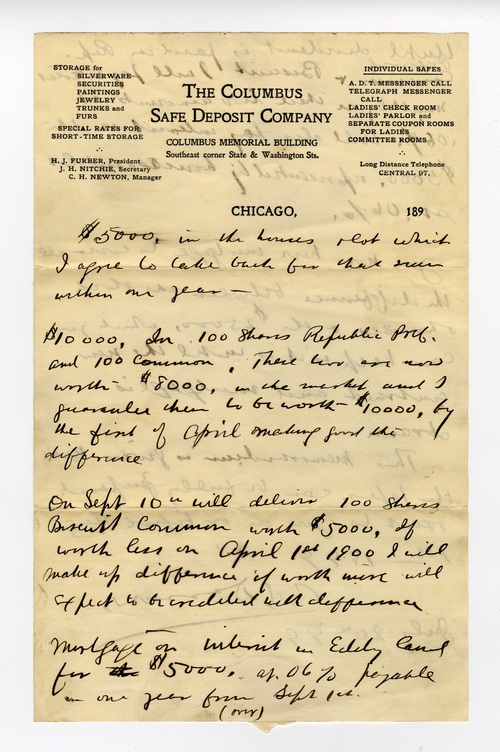 The Columbus Safe Deposit Company
Columbus Memorial Building
Southeast corner State & Washington Sts.

H. J. Furber, President
J. H. Nitchie, Secretary
C. H. Newton, Manager

Individual Safes
A.D.T. Messenger Call
Telegraph Messenger Call
Ladies' Check Room
Ladies' Parlor and
Separate Coupon Rooms
For Ladies
Committee Rooms


Long Distance Telephone
Central 97.

Chicago 189
$5000, in the houses & lot which I agree to take back for that sum within a year?
$10 000, In 100 Shares Republic Pref. and 100 Common. These two are now worth - $8000, in the market and I guarantee them to be worth - $10000, by the first of April making good the difference [.]
On Sept 10th will deliver 100 Shares Biscuit Common worth $5000, If worth less on April 1st 1900 I will make up difference if worth more will expect to be [?] with difference.
Mortgage on interest in land for
the
$5000, at .06% payable in one year from Sept. 1st.
(over)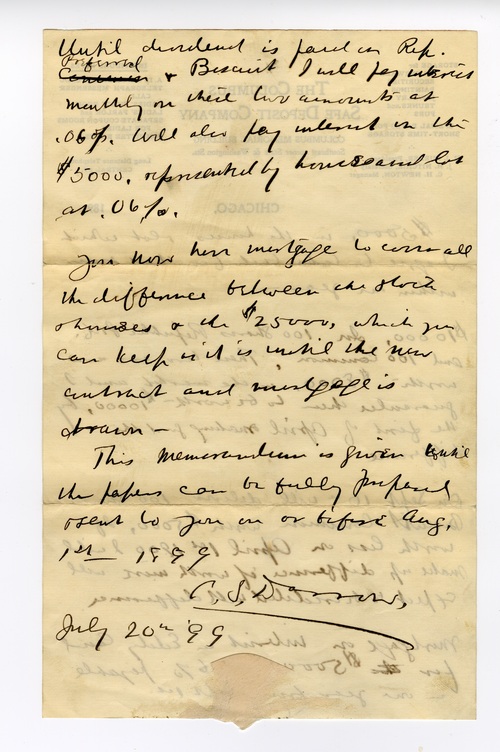 Until dividend is paid on Rep.
Common
Preferred & Biscuit I will pay invoices monthly on these two amounts at .06%.
Will also pay interest on the $5000, represented by house and lot at .06%. You now have mortgage to cover all the difference between the stock and houses and the $25000, which you can keep as it is until the new contract and mortgage is drawn?
This Memorandum is given until the papers can be fully prepared & sent to you on or before Aug. 1st 1899 [.]
C. S. Darrow
July 20
th
'99