Clarence Darrow to Jessie Ohl Darrow, January 8, 1896

Clarence and Jessie divorced in 1897 after nineteen years of marriage. Darrow was then 40 years old. It appears that it was Darrow's idea to get divorced. Darrow biographers Arthur and Lila Weinberg wrote that during this time, divorces were much rarer and it could hurt Darrow's career if his wife initiated the divorce proceedings, so she suggested he file the papers. It also appears that the petition for divorce was not true, as Jessie was a dutiful wife who was content to stay at home and take care of their son Paul. It was Darrow who was restless and felt he needed freedom. The petition Darrow filed states in part that his wife Jessie "wilfuly deserted and absented herself from [C.D.] without any reasonable cause, for the space of two years and upwards, and has since continued and yet continues to absent herself." Darrow agreed to give Jessie the house free of encumbrances and not less than $150 per month during her life. Jessie told Darrow biographer Irving Stone that about a year after the divorce, "a tearful Clarence came to her lamenting that the divorce had been a mistake." But it was final and Jessie later married Judge Brownlee of Ashtabula, Ohio. Darrow had tried some cases before this same judge.

Notes on date: Date written on letter by an unknown person.
Click on the image to view as a PDF. A transcription of the letter is on the right.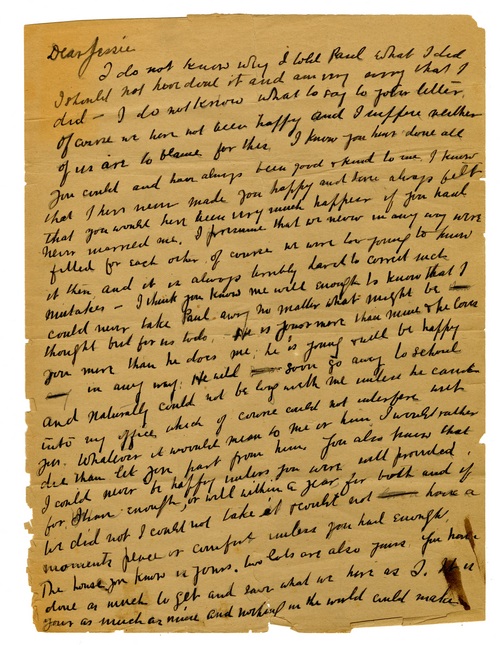 Dear Jessie
I do not know why I told Paul what I did I should not have done it and am very sorry that I did — I do not know what to say to your letter. Of course we have not been happy and I suppose neither of us are to blame for this. I know you have done all you could and have always been good & kind to me. I know that I have never made you happy and have always felt that you would have been very much happier if you had never married me. I presume that we never in any way were fitted for each other[.] Of course we were too young to know it then and it is always terribly hard to correct such mistakes — I think you know me well enough to know that I could never take Paul away no matter what might be xxx thought best for us to do. He is yours more than mine & he loves you more than he does me; he is young & will be happy xxx in any way: He will xxx soon go away to school and naturally could not be long with me unless he came into my office which of course could not interfere with you. Whatever it would mean to me or him I would rather die than let you part from him. You also know that I could never be happy unless you were well provided for. I have enough, or will within a year, for both and if we did not I could not take it and could not xxx have a moments peace or comfort unless you had enough. The house you know is yours. Two lots are also yours. You have done as much to get and save what we have as I. It is yours as much as mine and nothing in the world could make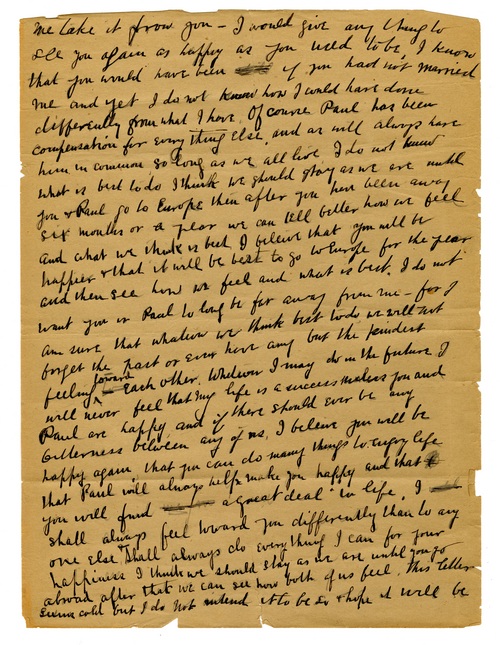 me take it from you— I would give any thing to see you again as happy as you used to be. I know that you would have been xxx if you had not married me and yet I do not know how I could have done differently from what I have. Of course Paul has been compensation for every thing else, and we will always have him in common so long as we all live [.] I do not know what is best to do [.] I think we should stay as we are until you & Paul go to Europe then after you have been away six months or a year we can tell better how we feel and what we think is best [.] I believe that you will be happier & that it will be best to go to Europe for the year and then see how we feel and what is best. I do not want you or Paul to long be far away from me — for I am sure that whatever we think best to do we will not forget the past or ever have any but the kindest feeling toward each other. Whatever I may do in the future I will never feel that my life is a success unless you and Paul are happy and if there should ever be any bitterness between any of us. I believe you will be happy again that you can do many things to enjoy life that Paul will always help make you happy and that you will find xxx a great deal in life. I xxx shall always feel toward you differently than to any one else & Shall always do everything I can for your happiness [.] I think we should stay as we are until you go abroad after that we can see how both of us feel. This letter seems cold but I do not intend it to be so & hope it will be