Clarence Darrow to Everett Darrow, January 24, 1873

Clarence was about fifteen years old when he wrote this letter to his oldest sibling Everett. The reference to Channing is to Channing Darrow (1849 - 1910), Clarence's brother and his second oldest sibling. Channing was named in honor of William Ellery Channing (1780 - 1842), one of the most important Unitarian preachers and theologians in the United States during the early nineteenth century. The reference at the bottom of the letter to a "Steam Nigger" is to a mechanical device used to move logs in a saw mill.
Click on the image to view as a PDF. A transcription of the letter is on the right.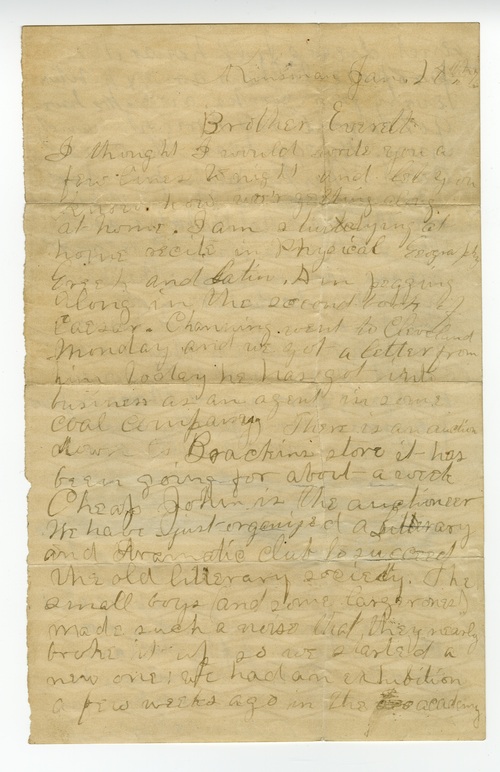 Kinsman (Ohio)
Brother Everett
I thought I would write you a few lines[.] I write and let you know how we're getting along at home. I am tutoring at home [recite ?] in Physical Geography English and Latin. Am [?] along in the second book of Caesar. Channing went to Cleveland Monday and we got a letter from him today he has got into business as an agent in some coal company[.] There is an auction down at Boackins store it - has been going for about a week[.] Cheap John is the auctioneer[.] We have just organized a Literary and Dramatic club to succeed the old literary society. The small boys (and some larger ones) made such a noise that they nearly broke it up so we started a new one. We had an exhibition a few weeks ago in the
xxx
academy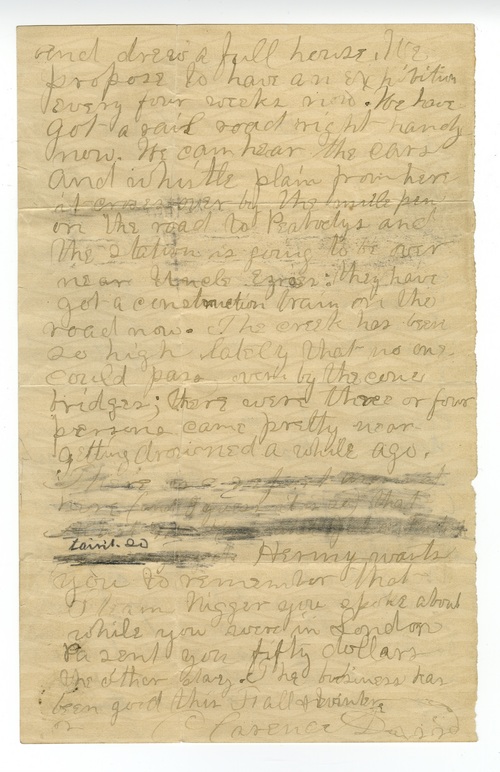 and drew a full house. We propose to have an exhibition every four weeks now. We have got a [sand?] [road?] right handy now. We can hear the cars and whistle plain from here it crosses over by the [?] [?] on the road to Peabody's and the station is going to be over near Uncle Ezras: they have got a construction train on the road now. The creek has been so high lately that no one could pass over by the corner bridges; there were three or four persons came pretty near getting drowned a while ago.
xxx
xxx
xxx
taint so Henry wants you to remember that Steam Nigger you spoke about while you were in London. Pa sent you fifty dollars the other day. The business has been good this Fall & Winter[.]
Clarence Darrow